TV chiefs in Portugal are planning to mak

e a

26

-episode

series

about

Madeleine

McCann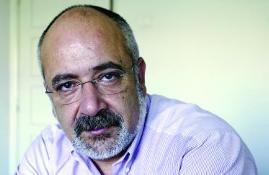 Francisco Moita Flores,
It has been written by policeman turned criminologist Francisco Moita Flores, who blames Kate and Gerry McCann for their daughter's disappearance.

Last night a friend of the McCann's said: 'This is absolutely disgusting.

'Not only are the people behind this cashing in on a poor little girl's disappearance, but it also looks like they are planning to point the finger at her heartbroken parents.

'Any TV channel who buys it will be paying blood money for it.
'People should remember Madeleine is a real little girl and not some character from a soap opera.
Her parents have real feelings.

'They will support anything that helps find her ' but not downmarket shows aimed at titillating entertainment.'

The series, based on the official investigation, will start filming in Portugal shortly. Producers are hoping it will be shown across Europe ' raising the prospect of it being broadcast in Britain.

Flores has been an outspoken critic of the McCann's and their seven holiday companions since Madeleine vanished from the Algarve resort of Praia da Luz last May, shortly before her fourth birthday.

He claimed on his Portuguese true-crime TV show that the couple or one of their friends sneaked away from a tapas bar to dispose of the child's body after she was killed in her holiday apartment.

The McCann's, from Rothley, Leics, deny any involvement in Madeleine's disappearance and insist she was abducted.

Portuguese police files on the case will remain secret for a further three months due to 'extraordinary complications'.

Official suspects Kate and Gerry McCann and Robert Murat must now wait until April to see any evidence against them.