MADDIE: Has kidnapper struck again'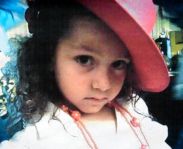 MARI LUZ CORTEZ
FEARS were growing last night that the kidnapper of Madeleine McCann has struck again.

Detectives hunting for the missing British girl were heading for Huelva, in Spain, where five-year-old Mari Luz Cortes vanished after popping out to the shops alone on Sunday.

The port's slum suburb of El Torrejon is just over an hour by motorway from the Algarve resort of Praia da Luz, where Madeleine, four, went missing.

Spanish police immediately alerted colleagues in neighbouring Portugal to the striking similarities in the two cases, while the McCann family's own private investigators, Metodo 3, raced to the scene.

Both are attractive children of a similar age, left alone by parents when they disappeared into thin air, unseen by any witnesses. The parents of both believe their daughters have been abducted.

And both have prompted an enormous public response, with the Cortes family, like the McCanns, mobilising hundreds of relatives and supporters to distribute pictures of their daughter.

'It is a possibility that the disappearance of my daughter is linked to the Madeleine case
Juan Jose Cortes Ramirez

Yesterday Mari Luz's distraught parents, Juan Jose Cortes Ramirez and his wife Irena Suarez Fernandez, appealed for her safe return.

Moments before the TV plea Mari Luz's mother collapsed at the family's apartment and needed treatment by paramedics.

Her 34-year-old husband broke down after admitting he feared his daughter had been abducted ' and that the Madeleine case was in the back of everyone's minds.

He said: 'It is a possibility that the disappearance of my daughter is linked to the Madeleine case but it is not something we want to contemplate.'

Weeping openly, he said: 'Whoever has her, bring her back and everything will be OK.'

The former professional football coach, who now runs a small construction company, added: 'We have no quarrels with anyone. We suspect nobody and everybody, because the family doesn't know how to deal with the situation.

'If anyone has taken Mari Luz by mistake, or if they thought she was lost, please bring her back. She's very shy and she never gets lost. She is a very bright girl with chestnut-coloured hair and enormous bright eyes.'

A friend said: 'The family can't believe they are going through the same pain as the McCanns did.'
Mari Luz was last seen when she went to buy a 76p packet of crisps from a kiosk on the main road 100 yards away.

Kiosk owner Jose Salazar Maria, said: 'My son served Mari Luz. Like other times, she bought crisps. And then she went.' Police have been inundated with reports of sightings.

"One witness claimed to have seen Mari Luz crying on a bus with a gypsy woman, who was shouting at her to keep quiet.

Last night, at home in Rothley, Leics, Gerry McCann said he and wife Kate shared the Cortes family's worries. He added: 'We hope Mari is found quickly, safe, and is returned to her family.'

In Huelva, more than 100 officers and 500 locals ' the neighbourhood has a long-established gypsy community ' have been searching for missing Mari Luz.