Portuguese police will arrive in Britain within the next ten days to reinterview friends of Kate and Gerry McCann over the disappearance of their four-year-old daughter, Madeleine.
David Payne, Jane Tanner and her partner Russell O'Brien are set to be quizzed first in a last-ditch attempt by cops to crack the mystery. Police will then decide whether to requestion other members of the so-called Tapas Nine, it was claimed.
The news came as a Portuguese taxi driver told how he picked up Madeleine McCann with a blonde woman who looked like Kate McCann and three men including one who looked like suspect Robert Murat the night of her disappearance.
Antonio Castela, 67, said he dropped off the missing girl and her English-speaking mystery companions at an Algarve hotel and watched them drive off in a blue jeep.
He insisted he was "100 per cent sure" his passengers included Madeleine, four, saying he even noticed her famous eye defect as his son had a similar defect.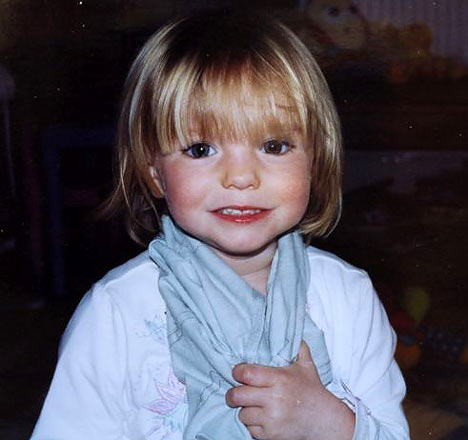 Madeleine has been missing since May 3 last year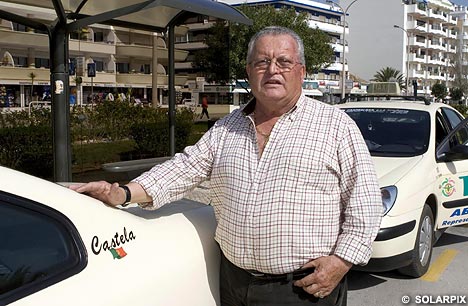 Antonio Castela insists he saw Madeleine on the night she disappeared
"She was with three men, one of whom looked like Robert Murat, and a blonde woman," he said.
"The blonde woman with them looked to me like Madeleine's mother but I couldn't say whether or not it was her," he added.
"I even noticed the girl's eye defect, as my son, who is a police officer, has a similar defect in his eye.
"When I saw the news on the television I was stunned and I turned to my wife and said: 'I had that little girl in my car!'
"I went back to the hotel and told them and asked if they had CCTV cameras. They said they did, but they were broken so there was no footage.
"I told the Judicial Police but they never took me seriously and told me I must have been mistaken.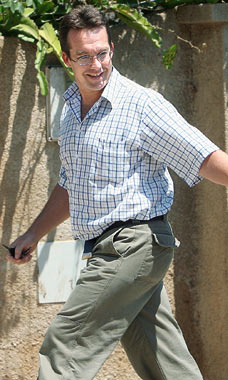 Robert Murat is one of the three suspects in the case
"But I know what I saw and I'm sure I saw Madeleine.
"I believe she must have been smuggled abroad. It has been on my mind ever since."
Castela, a taxi driver for the past 17 years, said he picked the group up at at a taxi rank in Monte Gordo an hour's drive east of Praia da Luz where Kate and Gerry McCann were holidaying with their three children on the evening of May 3. He was certain about the timing, he said, as it was approaching the end of his shift.
He claimed Madeleine was wearing a pair of pink pyjamas and sat on the lap of one of the two men.
They asked him to drive them to the Apolo Hotel in the nearby town of Vila Real de Santo Antonio, a 15 minute drive from Portugal's southern border with Spain.
And the only one words one of the men uttered at the end of the two and a half mile journey was "How Much?" in English when it was time to pay, Mr Castela told Jornal do Algarve in an exclusive interview.
He told the paper the jeep the group got into in the hotel car park had a yellow UK-style number plate.
He is thought to have informed police after being told they were not staying at the hotel and seeing news of Madeleine's disappearance on TV.
Mr Castela is said to have picked up the group just after 8pm local time.
Madeleine's parents - official police suspects - first raised the alarm around 10pm although the last public sighting of Madeleine is believed to have been at least four hours earlier.
Jane Tanner, one of the friends who was eating tapas with Madeleine's parents the night she disappeared, has told how she saw a man carrying a little girl in pink pijamas in his arms near the McCanns' Ocean Club apartment the night the youngster went missing. She told police she saw the man from behind but was able to give a description of what he and the child was wearing.
The 38-year-old marketing executive claims she saw the pair about 40 minutes before Madeleine's parents raised the alarm.
Portuguese police have said they believe there are inconsistencies in the statements of some of the so-called Tapas Nine and have asked for permission to interview some of them again in Britain.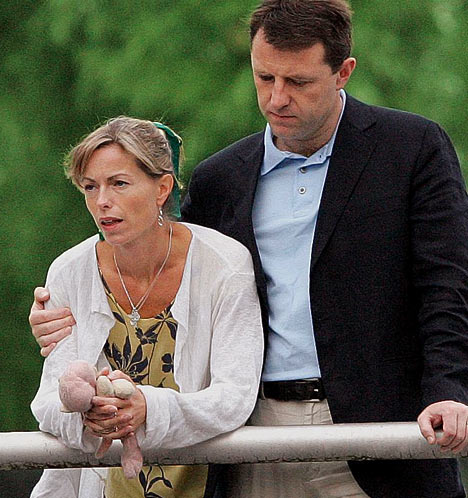 Kate and Gerry McCann are also suspects in their daughter's disappearance
UK authorities are currently considering the request.
The McCanns and Robert Murat - the third official suspect or arguido in the Madeleine McCann case - all deny any wrongdoing.
GP Kate and heart specialist Gerry, both 39 and from Rothley, Leics, believe their daughter was abducted by paedophiles and may have been smuggled across Portugal's border with Spain before being taken to north Africa.
Portuguese police chief Alipio Ribeiro recently admitted officers had been "hasty" in making the McCanns suspects.
The taxi driver's wife Gloria said: "My husband has consistently said the same thing for the past ten months.
"A journalist from the local paper heard the story from someone who knows my husband.
"The reporter approached my husband and asked to do an interview.
"That is why the story has only just come out now."