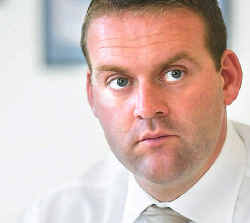 Edward Smethurst
McCann lawyer's 'legal history'
Chris Barry
20/ 3/2008
BURY solicitor Edward Smethurst, 38, helped make legal history this week.
Mr Smethurst is acting as legal co-ordinator to Kate and Gerry McCann, parents of the missing toddler Madeleine, who vanished while on a family holiday last year.
He was in court yesterday for the family's successful defamation case against
Express Newspapers
, which saw it pay ?550,000 in damages and, for the first time ever, publish apologies to the McCanns on the front pages of the Daily Express and Daily Star.
Mr Smethurst, 38, who is acting for the McCanns on a pro bono basis, became involved with the McCanns when his boss, millionaire entrepreneur Brian Kennedy, offered to help the couple last year.
His job as legal director at Mr Kennedy's
Latium Group
is a world way from the high profile he experienced this week.
He said: "It is the first time a national newspaper has apologised on its front page, and it has also seen £550,000 paid into the fund to find Madeleine, No Stone Left Unturned. It is quite unprecedented - we have made legal history. We hope this will discourage the media from printing such grossly defamatory stories and also bring the focus away from Madeleine's parents and back to the need to find her."
Mr Smethurst, a former pupil of Rochdale's Oulder Hill High School, has been chairman of the
Law Society
's commerce and industry group in the north west for 14 years. He is a director of
Sale Sharks
rugby club, and heavily involved with
Cancer Research UK
.