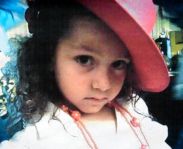 MARI LUZ CORTES
THE body of a girl found in a river estuary in south-west Spain was identified last night as that of missing Mari Luz Cortes.
Five-year-old Mari Luz vanished on January 13 after going to buy sweets from a stall only yards from her front door in Huelva.
The town is near the border with Portugal and less than two hours' drive from where Madeleine McCann went missing.
Last night Madeleine's parents Gerry and Kate sent a message of support to Mari Luz's mother
and father, Juan Jose Cortes, 34, a former professional footballer, and Irene Suarez.
A security guard spotted Mari Luz's body floating by a wharf in the port near her home.