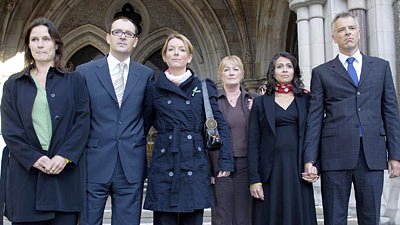 JANE TANNER-DAVID PAYNE-FIONA PAYNE-DIANNE WEBSTER - RACHAEL OBRIEN - RUSSELL OBRIEN
PORTUGUESE police will fly to the UK next month to quiz three friends who dined with Kate and Gerry McCann the night Madeleine disappeared.
Detectives believe Jane Tanner, her partner Russell O'Brien and David Payne could provide a breakthrough.

Police are also keen to interview Justine McGuiness, a psychologist and former family spokesman who comforted Kate, 39, after Madeleine vanished last May.
Spokesman Clarence Mitchell said the McCanns' friends are keen to help.