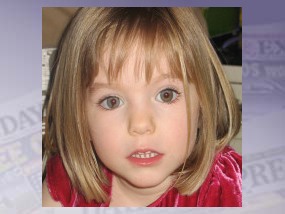 Madeleine McCann
Portuguese police are due to arrive in the UK to sit in when the friends of Kate and Gerry McCann are interviewed.
The detectives, led by Paulo Rebelo, who is in charge of the Madeleine McCann case, will not actually question the friends of the couple but will be present at interviews carried out by officers from Leicestershire Constabulary.

The McCanns, from Rothley, Leicestershire, will not be questioned in relation to the disappearance of their four-year-old daughter from the Algarve holiday resort of Praia da Luz on May 3 last year.

Their spokesman Clarence Mitchell said the couple welcomed the interviews and were happy to be reinterviewed, but a request had not been made by Portuguese detectives.

Instead they will question the McCanns' friends - known as the "Tapas Seven" - who were with them the night Madeleine disappeared.

They will be interviewed as witnesses and are free to leave at any time, said a spokeswoman for Leicestershire Constabulary. No lawyers will be present.

There had been speculation that diaries and Madeleine's Cuddle Cat toy could be seized by Portuguese officers, but it is understood that no property will be searched or seized.

The Portuguese officers are expected to land at East Midlands Airport from Faro at 12.20pm on Monday.


They will be met by British officers and are expected to avoid the public arrivals lounge by being escorted out through a private exit once they have cleared customs.

The Portuguese officers are staying at a hotel in Leicester city centre