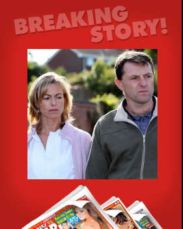 ABOVE: Gerry and Kate McCann are considering setting up an abduction hotline
Kate and Gerry McCann have set off for Brussels hoping to persuade MEPs to introduce a Europe-wide alert system they believe could prevent other children going missing like their daughter Madeleine.
As Portuguese detectives continued to attend interviews with friends of the McCanns in Leicestershire, the couple set off for the Belgian capital ahead of a key meeting at the European Parliament.

After making the journey from their home in Rothley, Leicestershire, they boarded a Eurostar train at London's St Pancras station.

On Thursday they will formally set in train European Parliamentary procedures which they hope will lead to the introduction of a new cross-border missing child alert scheme.

The "declaration", already backed by five MEPs across party lines, envisages an EU-wide system similar to the US Amber alert scheme which works across state lines.

The couple were dining in a tapas restaurant in Praia da Luz, Portugal - just an hour's drive from the Spanish border - when their daughter Madeleine, then three-years-old, disappeared.

They believe a similar scheme might have helped find Madeleine in the crucial hours after she went missing on May 3 last year.

The McCanns will carry out a presentation to MEPs about the need for greater co-ordination between European countries when a child is abducted.

Their plan includes the introduction of a new dedicated information hotline. They have already reserved the number - 116 000 - but it has yet to go live.

The declaration will remain open for three months and a majority of the 785 MEPs is required to sign it before it can go before the European Parliament.