SMILING Kate McCann heads to Brussels yesterday to launch a child alert system she believes may have found Maddie in hours.
Kate and husband Gerry, 40, want Euro MPs to adopt the scheme based on the US Amber Alert plan.

Messages are broadcast on motorway billboards, radio and TV when a child goes missing.
Spokesman Clarence Mitchell said: "Kate and Gerry saw the Amber Alert system operating and they believe Europe and Britain need to bring it in urgently."
Meanwhile Tapas 7 pals Dr Matthew Oldfield, 37, and wife Rachael, 36, who ate with the McCanns the night Maddie, four, vanished from Praia da Luz, were interviewed by cops in Leicester as Portuguese officers listened in.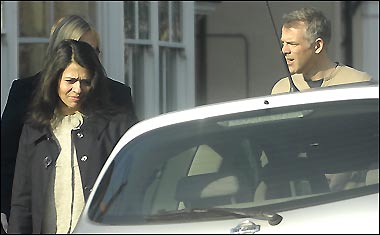 Quiz ... Oldfields to face police