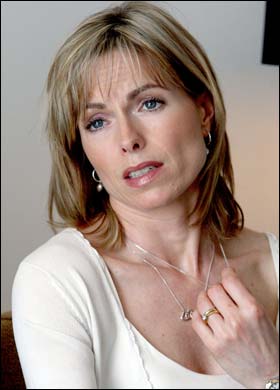 One year on ... Kate McCann talks to The Sun
MISSING Madeleine McCann's mum told yesterday how the astonishing rescue of Austrian dungeon girl Elisabeth Fritzl has given her fresh hope that her daughter is still alive.
Kate, 40, said that hearing how Elisabeth was saved after 24 years imprisonment renewed her belief that little Maddie may also be held captive somewhere.
Speaking ahead of tomorrow's first anniversary of the night her blonde girl disappeared, Kate told The Sun: "It proves that people can go off the radar, doesn't it? But they are still there – and you owe it to that person to keep looking. It gives you hope. It's horrible to think of the length of time, but Elisabeth being found gives you hope.
"It could be today, it could be tomorrow, it could be next week. You just have to
hold on to that hope."

GP Kate, 40, firmly believes Maddie, who vanished days before her fourth birthday while on holiday in Portugal last May, is still alive.

She said: "It's a sense, really. Madeleine just feels very close.

"It's more of a kind of sensation that she's there. You try to be objective and think, 'Is that just because I'm her mum and I want to believe it?' But it hasn't changed."
Kate, of Rothley, Leics, said she often "sees" Maddie in her head.

She said: "I don't really picture her as she'd be now – I picture her as we remember her. And that's being happy, because that was Madeleine. I don't actually think she could have been happier.

"It's memories, really. Seeing her there, seeing her in the garden. She can't find us, we have to find her."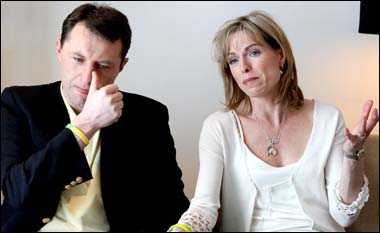 Hoping ... Gerry and Kate McCann speak about Maddie yesterday
Ordeal

But Kate knows that, even if she IS found, Maddie's ordeal may have had a terrible effect on the tot.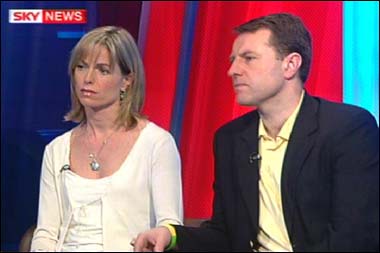 Interview ... couple discuss heartache on Sky TV
Her voice trailing off, she said: "I've talked of this sense that she's there and I'm going to see her again – but I guess the hardest thing is knowing that if we do find her she'll be there, but . . . "

Speaking as she and husband Gerry launched their own appeal to find Maddie, Kate told how a visit to the American Centre for Missing and Exploited Children also sparked new optimism.

She said: "I came out of there thinking, 'She is out there'. This isn't just my parental longing for Madeleine. This is experts saying we have X, Y and Z cases."
Heart specialist Gerry, 39, said: "Ernie Allen, the head of the American Centre, said to us there is a really good chance Madeleine is out there. And that is 25 years' experience of someone involved in missing and abducted children."
He added: "Data from America shows that, of the children abducted every year, 40 to 50 per cent are killed. That means the majority are not killed.
"The evidence from the States again is that, the younger the child, the less likely it is that they will be seriously harmed or killed. And Madeleine is at the right lower age limit.

"We're not saying it's impossible and we've never said that. And you do start to wonder how many children who are never found, and are assumed to be dead, are actually being brought up somewhere else.
"It's frightening to think of Natascha Kampusch and Shawn Hornbeck – eight years and 4½ years."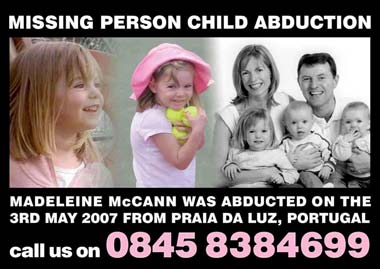 New appeal ... latest Maddie poster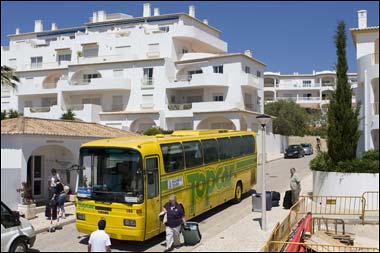 Undaunted ... tourists at McCann hol flat yesterday
Natascha was found eight years after she had been abducted by a paedophile in Austria, and Shawn nearly five years after he was taken by a sex fiend in America.
And it was revealed at the weekend how Elisabeth Fritzl was held captive for more than two decades by her father in a cellar beneath his house in Amstetten, Austria.
Holding hands tightly with Kate, Gerry said: "The last thing we would ever want is for Madeleine to become a statistic – a missing child who, because of her young age, may grow up in another environment and never be recovered."

Maddie went missing from the family's apartment as Kate and Gerry shared a tapas bar meal with friends at their holiday complex in Praia da Luz, Portugal.
The toll of the year which has followed is most obvious in Kate, who looked thin and frail yesterday during a round of interviews to heighten awareness of their case.
But Gerry revealed that the couple's three-year-old twins Sean and Amelie keep them going.
He said: "They talk about Madeleine constantly. They include her in everything. They ask about her.
"They essentially still play with her – and that's really heartening for us a year down the line.
"If Madeleine walked in tomorrow, they'd shout, 'Madeleine's home, lets play!' She's still a huge part of their life and ours." Yet Gerry added: "We'll face difficult decisions down the line and we are not forcing information on them."
Kate said: "We don't have to do anything to keep Madeleine there – she's just there. I sense her and that's hard because I just want to be closer to her again."