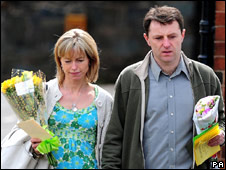 The McCanns recently marked one year since Madeleine's disappearance
The parents of Madeleine McCann have backed a scheme to use social networking websites Facebook and Bebo to help trace missing children.
The charity Missing People has launched the initiative to coincide with International Missing Children's Day.
The day will highlight cases such as Madeleine, of Rothley, Leicestershire, who disappeared aged three in Praia da Luz, Portugal, on 3 May last year.
Kate and Gerry McCann said the scheme would "undoubtedly capture attention".
Under the initiative, Facebook users can view details of missing youngsters on their own page.
'Resourceful group''
Mr and Mrs McCann said: "We strongly support and encourage this new initiative to use Facebook to increase awareness of missing children.
"Using the power of social media in this way will undoubtedly capture the attention - and hopefully the help - of a younger population who are a hugely valuable and resourceful group."
Missing People is also joining Bebo's Be Cause site, which gives information about charities and campaign groups for young runaways.
The charity has had 13,000 contacts in the last year about young people who have gone missing, including 2,000 on those under 13.
Other cases being highlighted on the day are Paige Chivers, 15, who went missing in Blackpool last year, and Andrew Gosden, 14, who was last seen at King's Cross railway station in London last September.