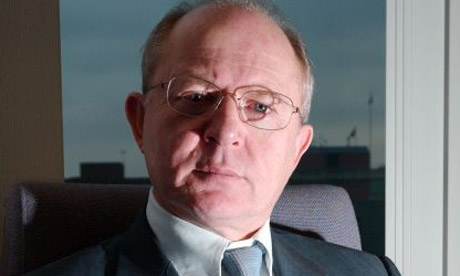 Peter Hill: will be replaced on PCC by Mail on Sunday editor Peter Wright. Photograph: Martin Godwin
Daily Express editor Peter Hill has left the Press Complaints Commission in the wake of Express Newspapers' £550,000 damages payout to the family of Madeleine McCann.

Hill has left the board eight weeks after the Daily Express, Daily Star, Sunday Express and Daily Star Sunday agreed to pay damages to Kate and Gerry McCann and make unprecedented front page and high court apologies for a string of false stories about their daughter Madeleine's disappearance.
"I would like to thank Peter Hill, who has served on the commission for nearly five years, for his contribution to our work," the PCC chairman, Sir Christopher Meyer, said today.

On the day of the Express Newspapers' apology in March, the effectiveness of the PCC's system of self-regulation came under attack and Meyer told ITV1's News at Ten that Hill's position was "under review".

He was responding to questions about Hill's suitability to remain a PCC commissioner given his paper's coverage of the McCanns.
Peter Wright, the editor of the Mail on Sunday, will replace Hill on the Press Complaints Commission. He will be one of seven editors on the 17-member commission.
"I am very pleased to welcome Peter Wright to the commission," Meyer said.
"His appointment means that the editorial membership of the PCC will remain well-balanced, with all sectors of the market represented on the board. I am looking forward to working with him."
Wright, the editor of the Mail on Sunday since 1998, will leave his position on the code of practice committee, which makes changes to the PCC code, to join the PCC board, which adjudicates on complaints.
"The Mail on Sunday has always been a firm supporter of self-regulation of the press, and I very much look forward to taking part in this as a member of the Press Complaints Commission," he said.