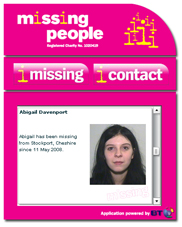 Abigail Davenport
Kate and Gerry McCann have sent their support to the charity Missing People as they launch a new Facebook application and other social networking initiatives to find missing children to mark International Missing Children's Day (25 May).
In the last year (2007/08) Missing People recorded nearly 13,000 enquiries on missing people under the age of 18. Nearly 2,000 enquiries concerned children under the age of 13. The charity made new media appeals in over 200 cases, with over three-quarters of the cases subsequently being resolved.
Missing People has now produced a new Facebook application, powered by BT Agile Media products, which enables users to highlight missing children via their profile. In addition, Missing People has joined the Bebo 'Be Cause' platform to educate young people about Missing People's 24hour Runaway Helpline service.
Paul Tuohy, Chief Executive of the charity said: "If every Facebook user downloaded our BT powered application millions of people internationally could see an appeal that could help us to reunite a family."
The new initiatives mean's that Missing People now has a presence across all the major social networking sites. In addition, one year since it launched, Missing People's website has now received more than 40mn hits.
Among those highlighted on International Missing Children's Day will be Paige Chivers missing from Blackpool, Andrew Gosden missing in London and Madeleine McCann missing from Portugal.

Kate and Gerry McCann sent their support saying: "We strongly support and encourage this new initiative to use Facebook to increase awareness of missing children. Using the power of social media in this way will undoubtedly capture the attention - and hopefully the help - of a younger population who are a hugely valuable and resourceful group.

"We would urge the millions of Facebook users around the world to keep looking and to do what they can to help bring these children home. This initiative by the charity Missing People, British Telecom and all those supporting them is another highly commendable and positive step in protecting and helping children."
Missing People already has the most comprehensive online database of missing and unidentified people from the UK as well as the facility to take sightings online. The charity now hopes to focus on providing online support to families affected by a disappearance.
As well as the Facebook appeals application, the charity has made an online version of its magenta and yellow charity ribbon available for users to display to highlight their support for the cause.
Missing People can be found at Facebook via its screen name - Missing People – or profile id 723408759 and at Bebo via www.bebo.com/missingpeople. The charity's official website is www.missingpeople.org.uk/supportus
ENDS.
Media Enquiries
Missing People - Communications team – media@missingpeople.org.uk / 020 8392 4510/13 / Out-of-hours 07872 600178.
Notes:
Missing People
Missing People (formerly National Missing Persons Helpline) is the UK's only charity that works with young runaways, missing and unidentified people, their families and others who care for them. As well as actively searching for missing people and supporting those who are trying to find them, the charity offers three other services: Runaway Helpline (for young runaways), Message Home (for missing adults) and Identification (helping to resolve cases of unidentified people).
For more information visit our website at www.missingpeople.org.uk/supportus
Statistics for International Missing Children's Day
Missing People recorded nearly 13,000 enquiries on missing people under the age of 18 (including young people missing from care and notifications from the police) in 2007/08.
Nearly 2,000 enquiries concerned children under the age of 13.
Many enquiries are resolved before a new media appeal is made (research shows that the vast majority of missing enquiries are resolved within 48 hours). The charity made new media appeals for 218 young people under the age of 18 in 2007/08.
Of the 218 young people for whom an appeal was made, 30 per cent were male and 70 per cent were female.
Over three-quarters of the cases we made an appeal for were subsequently resolved.
International Missing Children's Day
On May 25, 1979, six years old Etan Patz was abducted in New York. He was never seen again. Over the following years, different organisations began to highlight this date, but it was not until 1983 that the President of the United States declared May 25 "Missing Children's Day". This day has also been commemorated in Canada since 1986 and has had since then, an international dimension. At a General Assembly on 26 April 2002, it was decided that this day would be promoted by Missing Children Europe and commemorated every year in as many European countries as possible. As the UK member of MCE Missing People leads the activities of International Missing Children's Day in the UK.
BT Agile Media
BT agilemedia is a venture business owned by BT who specialise in providing premium rate services and payment solutions to all those involved in the participation media marketplace.

As part of BT, one of the world's leading providers of telecommunications products and services, we are focused on developing innovative applications that will enable service providers, media owners, production companies, content owners and charities to maximise interaction opportunities and revenue within this sector.
Bebo
Bebo is the world's leading global social media network. Building on the notion of traditional social networking websites, Bebo combines community, self-expression and entertainment to enable its users to consume, create, discover and share professional and user-generated content through the Bebo website. Bebo has 11.6m unique users in the UK and a total membership of more than 40 million worldwide. Bebo also ranks as the UK's most engaging website with the most page views per usage day amongst the top 100 most popular sites *.
Bebo was founded in 2005 by Michael and Xochi Birch.
* Survey carried out by broadband access solutions provider ZyTEL Communications at the 2008 BETT educational technology event
The Bebo 'Be Cause' platform:
The Bebo Be Cause platform enables organisations to deliver information, services and campaigns to the Bebo community and is accessed by going to www.bebo.com/because.
Other SNS activity:
On YouTube Missing People continues to show video appeals of vulnerable missing people at http://uk.youtube.com/missingpeople.