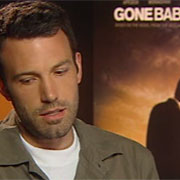 Ben Affleck directed the film
The fictional tale of an abducted four year old, 'Gone Baby Gone' was pulled last September because it was thought too sensitive for British audiences.
The story centres on a girl who gets kidnapped from her bed after her mother leaves her alone in the house.
Madeleine McCann, also four, vanished from a holiday apartment in the Algarve on 3 May 2007 while her parents ate at a nearbytapas restaurant.
It was that similarity that led bosses at Disney to cancel its UK release until now.
The film's director is former actor Ben Affleck. Although frustrated at the delay, he backed the decision to postpone the release.
"I frankly felt proud to be involved with a company that made a tasteful choice rather than a crass choice. I figured people can eventually see the movie.
"That's not quite as important as making a choice based on discretion, good taste and being respectful," he told Sky News.
In the thriller, two detectives - played by Affleck's younger brother Casey and Michelle Monaghan - search for the abducted girl after she vanishes in Boston.
Morgan Freeman and Ed Harris also star in the drama, which was produced, directed and co-written by Affleck.
At the time of the film's delay, Madeleine's parents, Gerry and Kate McCann publicly thanked Ben Affleck for postponing the film - even though it had no connection with their daughter's disappearance.
The film and the book it was based on were both produced before Madeleine went missing.
Casey Affleck told Sky News: "The movie was filmed two years ago, way before anything ever happened so obviously it has no bearing, it wasn't based on the case at all."
The film has already been a critical hit in the US - now it has been decided the time is right for British audiences to finally see it.
It goes on release across the UK on June 6.