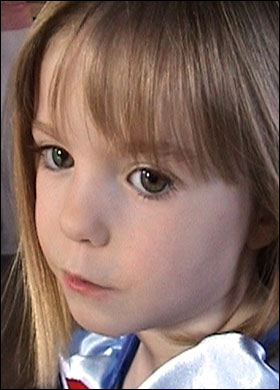 Missing ... Madeleine McCann
GERRY McCann has slammed MEPs stalling over a Europe-wide child abduction alert system.
The McCanns still need another 182 Euro MPs to sign up to the amber alert initiative by next month.
But Gerry says he has grown frustrated by the outstanding MEPs who he accused of a "lack of understanding".
Doctors Kate, 40, and Gerry, 39 – whose daughter Madeleine, five, has been missing for 13 months – will visit Strasbourg on Tuesday to promote the campaign.
In his blog Gerry said: "Some of the responses that have been sent display a complete lack of understanding in what we hope to achieve.
"For example some have said they will not sign because such a system is already in place with the 116 000 hotline number.
"Firstly this number for missing children is only operational in one out of 27 European countries (Greece) so far.
"Secondly the number does not mean an Amber alert will be issued for an abducted child as no such system exists - hence the written declaration.
"Thirdly we are looking for cross border cooperation between member states when a child is abducted. Hopefully with more lobbying, we can get the declaration accepted."
The couple visited Brussels in April to launch their campaign and have gained the signatures of 211 MEPs so far.
They hope that their presence at the other European Parliament building will help them reach the 393 mark by July 20.
Even with the support required, such a declaration carries no legal weight in the European Union.
But the McCanns believe it would help them win the moral argument over whether such a cross-border system is needed.
Clarence Mitchell, their spokesman, said: "Kate and Gerry are confident that this can be achieved but they accept that there's a lot to be done. They remain confident but they are not naive."