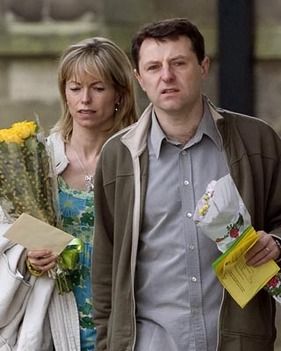 ABOVE: Kate and Gerry McCann
MADELEINE McCann's parents are finally to find out just what evidence police have against them.
Gerry and Kate McCann will be given full access to confidential case files, Portugal's top law officer revealed yesterday.

Access to the dossier will allow heart consultant Gerry and GP Kate, both 40, to build a defence and try to clear their status as suspects in the disappearance of Madeleine.

Attorney General Fernando Jose Pinto Monteiro said: "From July the case will cease to be covered by judicial secrecy and will be available to consultation by all parties.''

Reports in Portugal said the legal blackout surrounding Madeleine's disappearance in May last year will end on 14 July – 10 months after the couple were named as suspects.
The McCanns, from Rothley, Leics, vigorously deny any wrongdoing.

Spokesman Clarence Mit-chell has branded delays in lifting their status as "arguidos" – suspects – as "inhumane''.

Last night they cautiously welcomed the report.

Mr Mitchell said the couple had not been told that judicial secrecy was to be lifted, but added: "If this is the case, clearly this is something to be welcomed.

"Their lawyers would once again urge the authorities to lift their arguido status as soon as possible.''

Judicial secrecy is normally lifted after eight months. But investigating judge Pedro Frias granted extensions after prosecutors said the case was "exceptionally complicated".

Madeleine vanished from her family's apartment in the Algarve resort of Praia da Luz just before her fourth birthday.

Her parents left her and twins Sean and Amelie, now three, sleeping while they dined nearby with seven holiday pals.


They could still face a technical "abandonment'' charge.

The McCanns' Portuguese lawyer Rogerio Alves said he understood that he would not have access to the files until August.

Yesterday the McCanns were in Strasbourg urging MEPs to back their campaign for a Europe-wide alert system for abducted children.