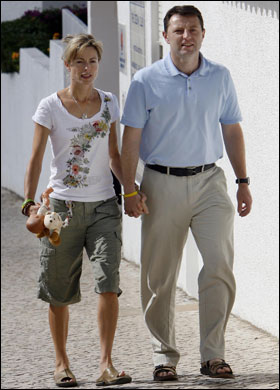 Getting away ... Gerry and Kate McCann plan first holiday since daughter Maddie vanished
The McCanns have refused to say where they are going but confirmed they will not be returning to Portugal where the toddler went missing.
Family spokesman Clarence Mitchell said no details of the McCann's week-long holiday with their three-year-old twins Sean and Amelie would be released.


Mr Mitchell said: "Kate and Gerry have always felt that they did not want to have a holiday under the circumstances, but clearly at some point, as much for the twins as for themselves, they may choose to have a break.
"That decision, however, will remain entirely private.
Fight
"One thing I can say is that it will not be Portugal. It would just create a huge media bun fight, and they don't want to do that."
But if a trip is being considered, it is "not imminent", said Mr Mitchell.
The McCanns were dining in a nearby tapas bar in a resort in Praia da Luz, in the Algarve, with friends when Madeleine disappeared from their apartment on May 3 last year.

Gerry and Kate, both doctors, stayed in the country while officials searched for the tot, but finally returned to their detached home in Rothley, Leicestershire, in September after being named as official suspects.
The McCanns have said they want to provide as normal an upbringing as possible for their other children.
That may now include taking the twins away - but the couple would be desperate to do so out of the media spotlight.
Mr Mitchell said: "If they choose to have a holiday that is their decision and they would obviously have privacy in the same way as you or I."