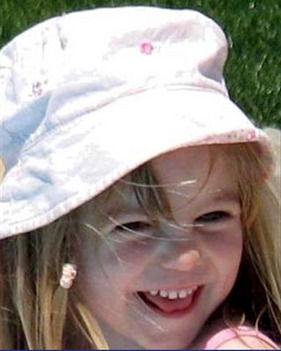 ABOVE: Missing: Madeleine
THE McCanns have hired more private detectives.
They will analyse secret police files the couple are determined to get their hands on.
GP Kate and heart consultant Gerry's new Brit-based investigators will work alongside Metodo 3 – the Spanish-based agency employed to find their daughter Madeleine nine months ago.
Portuguese police have kept details of their 14-month probe secret.
But the McCanns' lawyers will demand case files are handed over if the police close the investigation. The lawyers claim the couple have a right to the files so they can conduct their own search for their daughter.

The files include all witness statements and evidence collected since three-year-old Madeleine's disappearance from her holiday apartment in Praia da Luz, Portugal, on May 3 last year.
Detectives have passed them to prosecutors but, according to police leaks in Portugal, they do not have enough evidence to charge anyone.
They plan to archive the case as unsolved and keep details of their investigation secret in case new evidence arises and it is re-opened.
" We are widening and deepening the investigative resources"
Couple's spokesman Clarence Mitchell
But the McCanns, both 40, from Rothley, Leics, insist they should be shown the files so they can carry on searching for Madeleine.
The couple's spokesman Clarence Mitchell last night told the Daily Star: "We are widening and deepening the investigative resources. Kate and Gerry will be doing everything within their power to get their hands on the police files they believe could help in the search for their daughter."

jerry.lawton@dailystar.co.uk