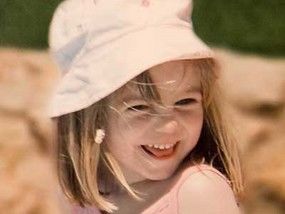 Madeleine: Sighting
Kate and Gerry McCann's private detectives were last night pursuing new leads pointing to a possible Belgian paedophile gang link to their daughter Madeleine's disappearance.

Three potential sightings in Belgium emerged in the official police files released this week.

The McCann's investigators are also looking into a Scotland Yard report suggesting the child may have been snatched to order for a Belgian paedophile ring, despite a warning that the intelligence is 'flawed'.
A woman reported seeing a young girl who looked 'very much' like Madeleine with an eastern European-looking couple on a tram in Brussels 12 days after she vanished, the files reveal.

Line Compere, 31, told Belgian police she saw the blonde-haired, blue-eyed child on the number 18 tram heading towards the main Midi railway station on the morning of
May 15 last year.

When I saw the photo in question, it immediately jumped out to me that there was a big resemblance to the little girl on the tram
Her suspicions were aroused because the man and woman with the youngster did not look like her, appeared to be speaking a different language from her and did not seem to know her well.
At that point she had never seen a photograph of Madeleine but later that day she was shown a picture of the missing girl.
Ms Compere told police: 'When I saw the photo in question, it immediately jumped out to me that there was a big resemblance to the little girl on the tram.'

Ms Compere, a music journalist, yesterday described the moment she saw the couple and the child who looked like Madeleine.
She said: 'I made the sighting on a tram. We were on the number 18 tram from Porte d'Anderlecht going towards the Gare du Midi.
'They got off and then got on to the number 51 tram.
'She really looked like Madeleine, but her hair was different. In the photos I saw of Madeleine, she had a fringe, but this girl did not. She was dressed all in pink and was in a pushchair.
'I was standing close to her and saw her eyes. They were blue. But I did not notice any marking on her eye.
'She was with a man and a woman, both between 35 and 40 years old. They were white but had dark hair and looked eastern European.
'They were both dressed in dark clothes. The girl looked very different to the adults.'
She added: 'I was interviewed once by Belgian police who launched an inquiry, and I gave them all the details I knew.'
The report was passed on to the Portuguese police but it is unclear what action was taken to follow it up.
The files reveal that there was another sighting in Belgium 12 days later.</[>
A Briton contacted police after seeing a child asleep on a train from Brussels to Antwerp on May 27 and concluded that she could have been drugged. She was accompanied by a balding, 6ft white man aged about 40 who was wearing sports clothes. The man got off the train at Mechelen at about 9.20pm, carrying the child.
Police made a formal request through Interpol for the relevant railway stations and surrounding areas to be checked for CCTV footage.
A third sighting of a girl who looked like Madeleine with an English-speaking woman was made in western Belgium, close to the French border. A witness told police he saw the child in the O Cool shop on St Ackaire Road in Mouscron between 4.30pm and 5.30pm on June 2.
He said the little girl had big eyes and the 'pale face of a tired child'.
His suspicion raised, he watched the pair, who were with a man, leave the shop and drive off in a grey Renault Scenic. He told Belgian police: 'Once back home I looked at a photo of the little McCann child and I was struck by the resemblance to the girl I had seen in the shop.
'The only difference I noticed is that the girl didn't have her hair cut with a fringe in front, but the colour was the same.'
On June 7 Belgian police contacted the shop's manager, but were told it had no CCTV cameras.
The latest sightings emerged after reports of the youngster being spotted in neighbouring Holland. Shopkeeper Anna Stam told how she spoke to a girl who bore a strong resemblance to Madeleine.
Ms Stam said the girl came into her party shop in Amsterdam in May last year. The youngster claimed her name was Maddie, adding: 'They took me from my holiday.'
It is understood investigators for Kate and Gerry McCann, of Rothley, Leicestershire, are checking the Belgian connection. Last night the McCanns' official spokesman, Clarence Mitchell, said they would follow up all credible leads.
'Detectives from Holland will be speaking to Anna Stam within the next two to three days.
'We use agencies all over the world. For example, there was a sighting in Chile a couple of months ago and we had people on the ground, in the building where she was supposed to have been seen, in three hours. Interpol would have taken days to get the same information.'
Madeleine was nearly four when she vanished from her family's holiday flat in the Algarve resort of Praia da Luz on May 3 last year.

Portuguese prosecutors announced last month that they were shelving the case, although it can be reopened if new evidence comes to light