Kate McCann refused to answer 48 questions put to her by Portuguese detectives after she was made a suspect in Madeleine's disappearance, police files have revealed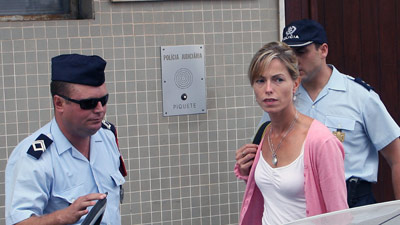 Kate McCann leaves after police questioning on September 7 last year
She used her right as an "arguido", or formal suspect, to remain silent during an interview on September 7.

Officers quizzed her about everything from her medical specialism and Madeleine's behaviour to whether she had any responsibility for her daughter's disappearance.

Detectives started by asking Mrs McCann about her movements immediately after she discovered that her daughter was missing at about 10pm on May 3 last year, a document in the massive police dossier that has just been released shows.

She was asked where she looked, what she touched and whether she searched inside the master bedroom's wardrobe.

The questioning turned to the raising of the alarm and the involvement of the media.

Officers asked Mrs McCann general questions about her relationship with her children and her work.

The 40th question was: Is it true that sometimes you despaired with your children's behaviour and that left you feeling very uneasy?

It was followed by: Is it true that in England you even considered handing over Madeleine's custody to a relative?

Mrs McCann was also invited to comment on the evidence of sniffer dogs and DNA testing on samples taken from the McCanns' holiday apartment and hire car.

The final unanswered question was: Did you have any responsibility or intervention in your daughter's disappearance?

The files show that the only question Mrs McCann did answer was: "Are you aware that in not answering the questions you are jeopardising the investigation, which seeks to discover what happened to your daughter?"

She replied: "Yes, if that's what the investigation thinks."