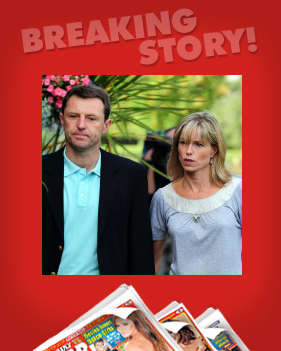 ABOVE: Portuguese police wanted to bug the parents of missing Madeleine McCann
Portuguese police wanted to bug the parents of missing Madeleine McCann but a judge refused to give permission, their case files have revealed.
Police wanted to bug Gerry and Kate McCann to eavesdrop on their conversations before making the couple "arguidos", or formal suspects, last summer.

Their files from the investigation have revealed that on August 1 last year, detectives requested permission to place two bugs in the McCanns' apartment in Praia da Luz and one in their car. But judge Pedro Frias refused to grant the order, saying the couple's witness statements would be enough.

The McCanns' arguido status
was lifted on July 21, when prosecutors shelved the case.

Madeleine was nearly four when she vanished from her family's holiday flat in the Algarve resort of Praia da Luz on May 3 last year.

A cluster of new leads in Holland and Belgium were being examined after Belgian police said they had received more than 100 reports of possible sightings of the youngster. The sightings came after it was revealed a Scotland Yard informant suggested Madeleine was stolen to order by a Belgian paedophile gang.

Met sources said they did "everything possible" with the tip.

Artist sketches of a man and woman seen in an Amsterdam shop with a girl who identified herself as "Maddie" have also been released. The pictures were drawn by a police artist on the evidence of Anna Stam, 41, who met a girl who looked like Madeleine in her party shop in early May last year. She was with a man and a woman and two other children.

The drawings, commissioned by the Daily Mirror, show a swarthy, dark-haired man with pencil moustache and short dark hair and a light brown-haired woman with thin lips. The man, aged between 35 and 40, spoke Portuguese while the woman, who was in her 40s, spoke English. She told Ms Stam they were from a French travelling circus.

Ms Stam said the little girl, who looked like Madeleine apart from the colour of her hair, asked her: "Do you know where my mummy is?" On being told that her mother was a little further back in the store, the child replied: "She is not my mummy" and added: "She is a stranger, she took me from my mummy."