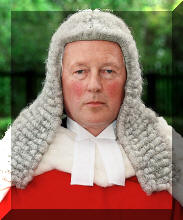 JUSTICE SIR DAVID EADY
COURT 13 Before MR JUSTICE EADY [ Sir David Eady] Thursday, 16th October 2008 At half past 10 Jury List STATEMENT IN OPEN COURT SIOC/08/1005 Tanner & ors v Express Newspapers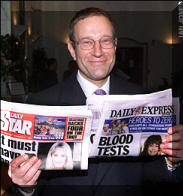 Richard Desmond's Express Newspapers
Richard Desmond's Express Newspapers will reportedly pay out ?375,000 in damages to the so-called 'tapas seven', the group Kate and Gerry McCann dined with on the night their daughter Madeleine disappeared.
The seven will receive £375,000 in damages for a series of articles published in the Daily Express and Sunday Express, Sky News reported today.
Express Newspapers was not immediately available to comment.
The legal action, undertaken for the group by law firm Carter-Ruck, follows big payouts by British papers to the McCanns and to Robert Murat.
In July, Murat accepted more than ?600,000 in damages from 11 British newspapers after he was libelled in more than 100 articles.
The Express Newspapers-owned Daily Express, Sunday Express and Daily Star; Associated Newspapers' Daily Mail, Evening Standard, and Metro; Mirror Group Newspapers' Daily Mirror and Sunday Mirror and Scottish Daily Record; and News Group's Sun and News of the World acknowledged that the stories they had run about Murat over nine months were entirely untrue and should never have been printed.
In March, Kate and Gerry McCann accepted ?550,000 from Express Newspapers after the Daily and Sunday Express, the Daily Star and Daily Star Sunday ran numerous defamatory articles after their daughter Madeleine disappeared from the Praia da Luz resort in Portugal on May 3, 2007.
Sky News crime correspondent Martin Brunt said: "The tapas seven, friends of Kate and Gerry McCann - those who were on holiday with them in Portugal last year - are to receive apologies tomorrow morning in the high court from Express Newspapers, and they will share a payout of ?375,000.
"I'm told an apology will be read out in the court and then there'll be statements from the McCanns and the tapas seven lawyers. There will also be apologies in the Daily Express and Daily Star newspapers and we can expect something similar in the Sunday Express."
According to the high court hearings list for tomorrow, a statement will be read in open court before Mr Justice Eady at 10.30am regarding "Tanner [and others] v Express Newspapers".

? To contact the MediaGuardian news desk email editor@mediaguardian.co.uk or phone 020 7239 9857. For all other inquiries please call the main Guardian switchboard on 020 7278 2332.
? If you are writing a comment for publication, please mark clearly "for publication".