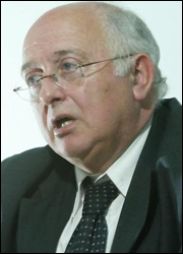 Jose Manuel Anes
THE top criminologist in Portugal has slammed the investigation into the disappearance of Madeleine McCann.
Jose Manuel Anes said the methods used by police were flawed and out-dated.
He added: ?Errors were made, not just by the Judicial Police, but by a whole group of people who took part in the investigations.?
Mr Anes, former head of criminology at Portuguese police's science lab, attacked the decision to make Maddie's parents Gerry and Kate ?arguidos, or suspects.
He said it was based on flawed evidence.
Mr Anes, 64, added: ?There's no knowing in what condition samples arrived at the laboratory.
?You find or you don't find. You can't invent! Also there's a fundamental principle that it's better to have a criminal free than an innocent in chains. That?s the slogan of our profession.?
Mr Anes also defended British police, arguing their offer of help was no impediment to Portuguese cops.
He said: ?The English police even offered dogs. If they didn't want to find anything, they wouldn't have lent dogs.?
Mr Anes admitted the case has been an embarrassment to his country and that police did not handle the pressure.
Maddie vanished from a holiday apartment in Praia da Luz days before her fourth birthday in May 2007.
Her parents, of Rothley, Leics, were accused over the disappearance, but the case was dropped.