Kate and Gerry McCann have given their first interview since Portuguese authorities cleared them as official suspects.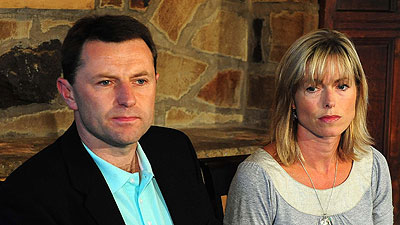 The McCanns only made a brief statement at the time Madeleine's case was shelved
Talking to Portuguese newspaper Expresso, the McCanns speak of their hopes of finding Madeleine.
But in a short video clip on the publication's website, Gerry McCann concedes that Madeleine could be dead.
"I will be honest. We have got no idea whether Madeleine is alive or not," he says. "What we are certain of is that there is absolutely no evidence."
Asked if the couple feared being arrested by Portuguese police over Madeleine's disappearance, he adds: "If you believe what was written in the papers, then of course we feared it.
"The situation for us was very frightening, of course it was."
Kate McCann slammed the Portuguese detective who named her and her husband as suspects.
Goncalo Amaral also made a series of allegations against the McCanns in his book The Truth About The Lie, which was published in Portugal six weeks ago.

On July 21, authorities announced they were shelving the case and lifting Mr and Mrs McCann's status as arguidos.
In a separate interview, the McCanns reveal that more than £1m has been spent hunting for Madeleine.

The couple tell the Daily Mirror that in less than a year the Find Madeleine fund had paid £1m to Spain's Metodo 3 detective agency to search for her.
Mrs McCann, 40, said: "We can't set a limit. A child does not have a price. We will pay what we have to. It just takes one person to make the one phone call we so hope for."
Madeleine disappeared on May 3, 2007 - days before her fourth birthday.
She had been left sleeping in a holiday apartment while her parents dined with friends in a nearby tapas bar in the resort of Praia da Luz in southern Portugal.