Members of the public could soon be able to make their own financial contribution to the search for missing Madeleine McCann, it has emerged.
The special "fighting fund" is being set up with the help of London lawyers who have flown to Portugal to assist the four-year-old's parents Gerry and Kate McCann.
A statement from the International Family Law Group, the firm instructed by the McCanns, said details of how people could make donations would be released within days.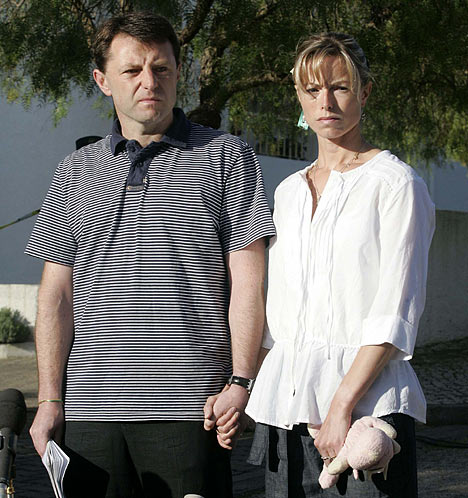 The McCanns held a press conference this morning announcing their intention to stay in Portugal until their daughter is found
More....
A QC, Michael Nicholls, has also been instructed by the family as their determined battle to find Madeleine enters another week.
Madeleine's uncle John McCann, who lives in Glasgow but was in Praia Da Luz last week, said the lawyers would play a liaison role and would not interfere with the criminal investigation.
A spokesman for the International Family Law Group said: "Gerry and Kate are very grateful for all the support and generous offers of help that they are receiving.
"Details of how contributions can be made to help get Madeleine back to the safety of her own family will be made available in the next couple of days."
The couple have told friends they wanted to begin restoring an element of normality to life as they remain in Portugal waiting for a breakthrough.
Mr McCann has spoken openly about how he is convinced his daughter is still alive.
But the past 10 days have seen them holed up inside an apartment, just metres away from the building where the four-year-old was abducted, co-ordinating efforts to recover her.
Apart from daily visits to church for masses and private prayer, they have stayed within the same small area, making regular appearances to plea for information which could help get her back.
On Saturday, which was Madeleine's birthday, they took time out together with their two-year-old twins Sean and Amelie for the first time at a private villa.
Scroll down for more ...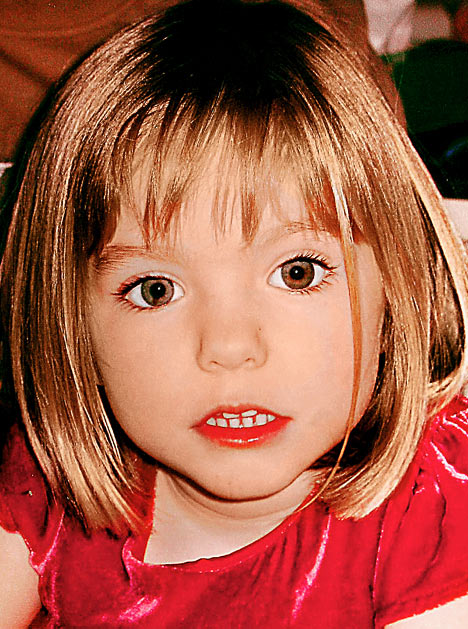 The photograph that clearly shows Madeleine's right eye, where the
pupil blends in to the iris
After days looking increasingly drawn, they returned looking relaxed and attended a special birthday service at the local village church where Mr McCann delivered a powerful personal address telling of his faith and hope for the future.
"We are looking forward to the day when Madeleine returns to us as a joyous one," he told hundreds of villagers as they were showered with gifts, hugs and kisses.
While there is little information emerging about the investigation, behind the scenes there has been concentrated police activity.
Plain clothes officers dressed in holiday gear have been operating in the village.
Sources also said today that officers have been making targeted searches on white vans as recently as Saturday, taking them off to be examined by sniffer dogs.
The confirmation followed reports that officers were interested in the movements of a man seen loitering with a white van outside the apartment where the McCanns had been staying when Madeleine was snatched.
The Sunday Times said that a new detailed portrait had been compiled based on his description.
But two high profile theories now appear to have been ruled out.
Officers have been touring the area as recently as three days ago showing people images centred around a blonde foreign woman aged around 40.
They have also been investigating a complaint by a Portuguese man that a foreigner had been photographing his daughter in the nearby town of Sagres.
Scroll down for more ...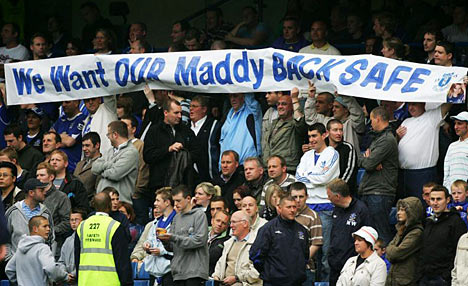 Everton supporters demand Madeleine's safe return at their match against Chelsea at Stamford Bridge yesterday. Photographs of Madeleine in an
Everton shirt have been circulating the internet
"There is no information to support those links," chief inspector Olegario Sousa of the Policia Judiciaria (PJ) said.
Around 10 British people, including the McCanns and their friends, have been re-interviewed to clarify their statements in recent days.
This week the group are set to appear in court behind closed doors to record their evidence for any future trial before they go back to the UK.
The procedure, known as "memory for the future", is similar to a mock trial in which the friends would give evidence as witnesses now against a future defendant.
Local lawyer Artur Rego said the procedure was used only in exceptional cases such as this where a large group of witnesses are foreign.
"It is recorded by video and kept sealed then released during the hearing," he said.
"If somebody is ever charged then this statement can then be unsealed and disclosed for the judge who is going to hear the case.
"It has the same value as witness statements delivered live in the trial."
But the McCanns themselves are not expected to be asked to take part.
Reports that a further British person interviewed on Saturday was being treated as a suspect have been dismissed.
Chief Inspector Sousa said that police did not have any specific suspects at present. Police have three general "hypotheses" but have not elaborated.
Yesterday Madeleine's uncle John McCann had a meeting with Glasgow marketing bosses ahead of the Espanyol-Sevilla Uefa cup clash being held in the city on Wednesday.
The plan is to show Madeleine's picture on large screens in the city where around 30,000 fans are expected to travel from Portugal's neighbour Spain for the match.
The rugby world has also added its support to the campaign to find the missing youngster.
Scotland captain Jason White called on anybody with any information to come forward.
"It's impossible to imagine what Madeleine's parents, Kate and Gerry must be going through right now and my heart goes out to them," he said.