Police are asking tourists who visited the Algarve resort where Madeleine McCann went missing to send in their photographs in an attempt to identify her abductor.
Officers want anyone in the Praia da Luz area of southern Portugal in the two weeks prior to the four-year-olds disappearance on May 3 to send their photos to a new website.

It is understood that the submitted photographs will be cross-referenced against a database of images of UK paedophiles and other criminals. Any relevant information would then be passed on to the


Portuguese police
Police in the UK said they wanted photographs that included strangers in the background and not family or empty scenic shots.
They are expected to use facial recognition technology to cross-reference 1000 photos an hour with a database of UK suspects.
Jim Gamble, of the Child Exploitation and Online Protection (CEOP) Centre, said: "No matter how small or insignificant the information may seem to you, it could be the missing part of the jigsaw, so let us decide if it is important."
Photos can be uploaded at www.madeleine.ceopupload.com.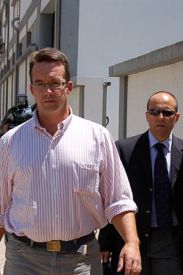 Robert Murat
Robert Murat, 33, the British man named as the only suspect in the girl's disappearance, is understood to have welcomed the move.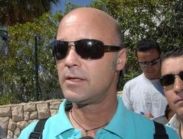 Tuck Price
Tuck Price, a family friend, said the appeal for holiday photographs showed that Portuguese police knew they had the wrong suspect. He added: "Why else would they be doing this? If they are so convinced about Robert, why would they still be looking?"
Mr Price also revealed his friend had collapsed in front of his family, the second time Mr Murat had fainted since being questioned over the abduction of the four-year-old girl.
Mr Price said a doctor had checked Mr Murat and found no problems with his blood pressure, but he added that the fainting showed the massive strain he has been under since being named as a suspect.
Meanwhile, at midday in the village of Praia da Luz, shoppers and workers stood still to pay respects to the missing girl.
The initiative was given the blessing of the McCann family, who are spearheading a campaign to imprint Madeleine's image on the minds of people across Europe and North Africa in the hope that she will be found.
They are convinced that she is alive and well despite no news of her whereabouts for two-and-a-half weeks.
Madeleine's mother Kate observed the silence privately in her holiday apartment.
In Portimao, the regional capital of the Algarve, senior detectives investigating Madeleine's disappearance also stopped for one minute in solidarity with the family.
At the Baptista supermarket in the centre of Praia da Luz, close to where the abduction happened, music was turned off, cash registers stopped and staff and customers stood silently at noon.
Among them was local Portuguese woman Natalie Ferreira, 56.
She said: "I stopped to pray to God to bring back Madeleine; all the Portuguese people feel this in their hearts.
"I lived in Germany for a long time before coming back here to Portugal and I know that there is more security here than in London or Germany. It has shocked everyone."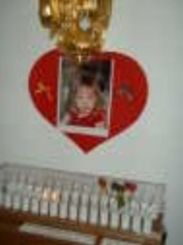 large red heart containing a picture of Madeleine fixed to the wall in front of the altar.
As the church bell sounded to mark midday, some bowed their heads in prayer while others inside the church gazed at a large red heart containing a picture of Madeleine fixed to the wall in front of the altar.
Yesterday's silent tribute came ahead of a nationwide prayer initiative launched by Carmelite nuns in the north of the country.
The nuns sent out emails across Portugal, calling for people to pray for Madeleine at 10pm today. Widespread participation is expected.
Last night, with only a fraction of the cheques opened, a fighting fund to pay for the McCanns' campaign had topped ?184,000, up from ?116,000 earlier in the day - flowing in at ?2000 an hour.
A website on Madeleine's disappearance has received more than 100 million hits.
Meanwhile, an 11-year-old girl missing from home for more than 24 hours was last night found safe.
Paige Hayhoe, of Chesterton, Cambridge, appeared at the home of a relative, a police spokeswoman said.