Gerry and Kate McCann say goodbye to their children as they leave their apartment to fly to Rome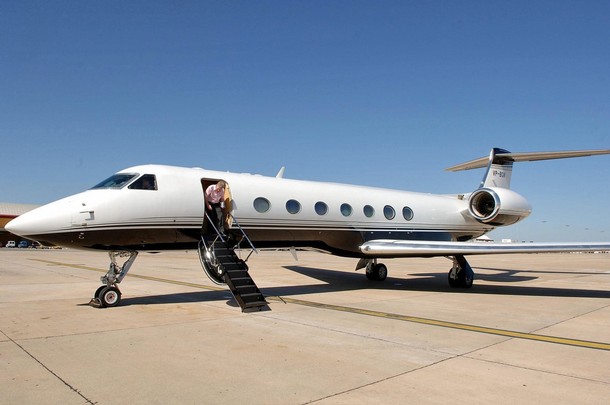 Sir Philip Green's private jet
DISTRAUGHT mother Kate McCann struggles to hold back tears as she bids an emotional goodbye to her son Sean yesterday.

She hugged and kissed two-year-old Sean and his twin ?sister Amelie before flying out of Portugal for the first time since her daughter Madeleine was snatched.

Still clutching Madeleines pink Cuddle Cat, with husband Gerry she left for Rome and a meeting with the Pope.

The couple will make a personal plea to the Holy Father to pray for the missing four-year-old before handing him a photograph of Madeleine.

In a visit they hope will raise the profile of Madeleines plight, the McCanns will attend a general audience in St Peters Square today before being introduced to Pope Benedict XVI afterwards.

Yesterday the couple made the agonising decision to leave Madeleines brother and sister with family members at the Ocean Club complex from where Madeleine vanished 27 days ago.

Bye bye Mummy. Bye bye Daddy
Amelie McCann

In touching scenes on the balcony of their apartment the McCanns were given a tender send-off from the two toddlers desperate to see their elder sister again.

With yellow and green ribbons tied round her pig-tailed blonde hair, Amelie clung to her mother as Kate tearfully assured her she would ?be home very soon?.

Sean smiled and waved to TV camera crews before he was hoisted into his fathers arms and kissed farewell.
Using a few of the only words she knows, Amelie waved sadly at her departing parents while uttering: ?Bye bye Mummy. Bye bye Daddy.?

Retail tycoon Sir Philip Green has put his private jet at the disposal of the McCanns, from Rothley in Leicestershire.
The Top Shop boss offered them his 12-seater Gulfstream jet after hearing about their ordeal.

Gerry and Kate, both 38, flew in the jet from a private VIP terminal near Faro airport in the Algarve to Rome's Ciampino airport. Sir Philip has been in regular phone contact with Madeleines father, offering him support and encouragement.

Last night in Rome the couple had dinner with the British ambassador to the Holy See, Francis Campbell, and stayed at his official residency.

The Pope is expected to ?prominently? refer to Madeleine during prayers in St Peters Square.

A Vatican source said he had ?followed Madeleines story with close interest and had been keen to offer help in some way. Throughout their ordeal the McCanns, both devout Catholics, have leaned heavily on their faith.

Last night police sources revealed that Madeleines Cuddle Cat may provide a vital clue in the inquiry.

Officers declined to explain why, but the place and position the cat was found in were said to be ?highly significant?.

Meanwhile, Portuguese police faced fierce criticism after issuing a wrong description of the suspect believed to have snatched the child.

A British witness told detectives she had seen a man of medium height, around 5ft 7in, hurrying away with a child wrapped in a ?blanket the night the little girl disappeared.

But officers miscalculated when converting from metric measurements ? and said they were hunting a man 5ft 10in tall.

Last night a close family source said: ?It seems something has been lost in translation.?