The purpose of this site is for information and a record of Gerry McCann's Blog Archives. As most people will appreciate GM deleted all past blogs from the official website. Hopefully this Archive will be helpful to anyone who is interested in Justice for Madeleine Beth McCann. Many Thanks, Pamalam
Note: This site does not belong to the McCanns. It belongs to Pamalam. If you wish to contact the McCanns directly, please use the contact/email details campaign@findmadeleine.com
KATE AND GERRY: WE GET STRENGTH FROM EACH OTHER
Original Source:

EXPRESS: THURSDAY 31 MAY 2007

Thursday May 31,2007 By David Piditch and Matt Drake in Praia da Luz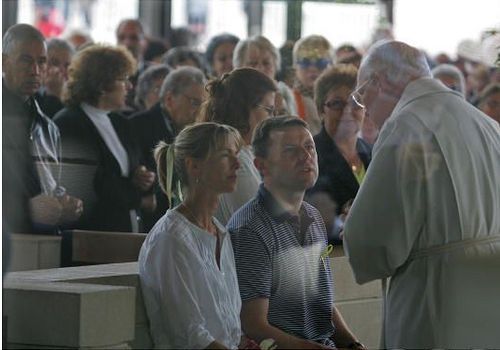 Kate and Gerry McCann praying at the Portuguese shrine of Fatima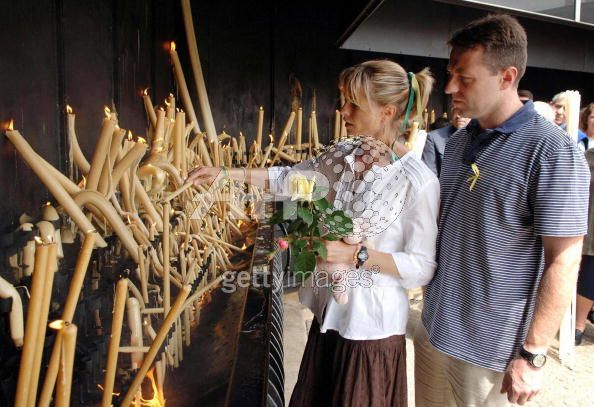 The McCanns have given a touching insight into how they have kept going during the nightmare of Madeleine's abduction by drawing on each other's strengths and the support of friends and family.

Yesterday, Kate McCann said: ?The first 72 hours really were the worst time for both of us. It was hard to get away from the dark places.

?But the support we have had and the prayers really do give us strength and hope. We are stronger and more positive.?
Mr McCann said: ?We are helping each other through this. We complement each other well, we remain strong.

?And we have focused on how we can do positive things, to campaign.?

Asked if they could ever forgive Madeleine's abductor Mr McCann said: ?When we have got Madeleine back we will think about who took her and what happened.?

He added: ?When Madeleine went missing it started off with us thinking in terms of minutes until we found her. Then minutes became hours, days and now weeks.

?The first 48 hours was akin to having a bereavement.

?It was anguish, despair, guilt, helplessness all falling into one. But it is different from a death, where you grieve and try to move on.

?Madeleine is not dead. We have been thrown into an ongoing crisis of the unknown.?

He said that last Saturday was the first time both he and his wife were overcome with emotional exhaustion.

?There was a lull in what we were doing and I had a low ? probably the first time we have both had one at the same time,? he said.

during the lows, as soon as you go there, you can go into the darkest chasms
Gerry McCann

Kate admitted: ?It?s fair to say I find it harder to lock away the emotions. I feel guilty not thinking about her.?

Quietly, her husband added: ?But during the lows, as soon as you go there, you can go into the darkest chasms.

?We want Madeleine to be found ... yesterday.?

TO HELP KEEP THIS SITE ON LINE CONSIDER