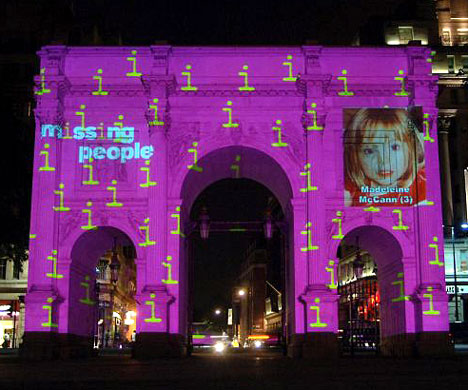 Plea ... Marble Arch lit up
A MISSING poster featuring Madeleine McCann was last night projected on to London's Marble Arch.
The poster showing pictures of Madeleine and two other missing children was beamed on to the landmark ahead of today's International Missing Childrens Day.
It also featured Javian Matthews, 14, from London and Samantha Osborn, 15, from Buckinghamshire who both disappeared in April this year.
Madeleine has now been missing for three weeks and her parents Gerry and Kate remain in Portugal, desperate for any news of her whereabouts.
Her uncle, John McCann, was visiting staff and volunteers at the National Missing Persons Helpline's Headquarters in central London today.
The charity is relaunching as Missing People and will reveal plans for an official yellow "missing ribbon" campaign for anyone who has disappeared.
Its new name and the ribbon campaign both also featured in last night's projection, which covered almost all of Marble Arch.
Chief executive of the charity, Paul Tuohy, said: "The projection was a great success in raising the profile of the charity as we embark on a new era.
"We are here for all missing people and although only three could be highlighted tonight, our work goes on for many, many more."