The media year was dominated by phones,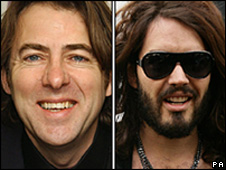 Ross and Brand both apologised for their behaviour
fines and most importantly, funds.
By the end of 2008, the realities of the economic crisis firmly outweighed the unrealities of life on the air and the front pages, as broadcasters and publishers fought to secure their financial futures.
But understandably, the headlines dwelt on the succession of "fiascos" and "crises", at the BBC and elsewhere.
2008 saw the high-profile resignations of Strictly Come Dancing favourite John Sergeant, Radio 2 controller Lesley Douglas, presenter Russell Brand and the suspension without pay of Jonathan Ross.
His oft-reported salary (said to be ?18m over three years) gave a public funding foundation to the row over the phone harassment of the actor Andrew Sachs.
The fact that Ross was not sacked was compared unfavourably with the later treatment of the Today presenter Ed Stourton, who learned about his own planned "sacking" from a newspaper journalist.
Financial gloom
By contrast, 2008 saw BBC business editor Robert Peston elevated to guru status, after a string of scoops about the banking crisis and its knock-on effects.
These in turn led to official questions about where he'd got his stories and whether his reports had exacerbated the crisis.
The media themselves were not immune from the financial gloom.
The year saw hundreds of journalists and other media workers lose their jobs at ITV, Virgin Media, the BBC, Channel 4 and a host of newspaper groups, including Trinity Mirror, the Telegraph, Associated Newspapers and Newsquest.