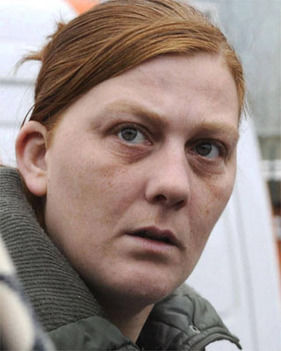 ABOVE: Karen Matthews jailed for eight years
SHANNON Matthews' kidnap ordeal at the hands of her evil mum has left her haunted by chilling nightmares.
As Karen Matthews was jailed for eight years, it was revealed her daughter is being terrorised by flashbacks of her 24 days in captivity

Shannon, nine, has been left so traumatised she faces years of psychotherapy to wake her from a real-life nightmare triggered by her mum's sick scam to make her the "new Maddie".
Yesterday Matthews, 33, was sent down for staging Shannon's kidnapping to try to pocket £50,000 reward cash.

Her boyfriend's uncle Michael Donovan, 40, who she recruited to snatch Shannon, was also caged for eight years.

The delivery driver kept the youngster holed up in his flat drugged and bound on an elastic noose strapped to a ceiling beam.
Matthews ordered him to hold her prisoner until the reward money built up, then release her, pretend to find her, and claim the cash, which they would split.
She hatched the plot after seeing how the public had donated £1million to the hunt for Madeleine McCann.
But detectives swooped on his flat just a mile from Shannon's home and found her hidden in the base of his double divan bed.
Sentencing Matthews and Donovan yesterday, Mr Justice McCombe branded their scam "truly despicable".
But he told Leeds Crown Court he thought they were both too thick to have dreamed it up themselves and other culprits may still be at large
He told them: "It is impossible to conceive how you could have found it in you to put this young girl through the ordeal that you inflicted upon her.
"It is incomprehensible that you could have permitted your friends, neighbours and, in your case Matthews, even your children to sacrifice time and energy in extensive searches.
It is also incomprehensible you could stand by and watch enormous police resources being wasted in a distressing search.
"In saying that, having a regard to their low intellect, it must be doubtful whether they could have conceived or continued these offences without the assistance or connivance of others."
The pair, of Dewsbury, West Yorks, who were each convicted of kidnap, false imprisonment, and perverting the course of justice, showed no emotion as they were sentenced. Both are likely to be released on licence in three years.
The judge revealed Shannon had been left "disturbed, traumatised and frightened".
A welfare report compiled since she was freed said: "She appeared to relive her experiences and she often complains of having nightmares where she is being tied up.

Shannon will need periods of psychotherapy followed by individually-based therapeutic interventions to help her recover from her experiences.
Det Supt Andy Brennan said no-one else faced prosecution.