How strange it was to see pale, pugnacious Gerry McCann back in the news this week. It serves as a reminder that while the world has moved on for the rest of us, time stands still for him.
For the McCann family, the clocks stopped nearly two years ago, on that terrible night in the Algarve when their three-year-old daughter slipped from public view and has not been seen since.

In their quest to find Madeleine, the desperate McCanns invited the world's Press into their lives. It was a relationship that was doomed to sour.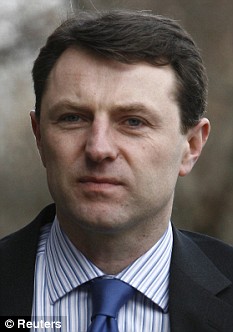 Grievance: Gerry McCann has complained about the Press
For months, the McCanns' efforts to keep their daughter's plight high on the news agenda were intense. Far from shrinking from the oxygen of publicity, what they feared most was the muffle of public apathy. In the process, they became experts at manipulating the media to their own advantage.
At one point, Mr McCann even returned to the family home in Leicestershire to tie his own yellow ribbon to the teddy stocked Madeleine shrine that had been hastily erected in the centre of the village.

Then and now, watching Gerry McCann walking the red carpet of his grief, as knowing as a Cannes film star, can be an uncomfortable experience.

This week, Mr McCann took the opportunity to air his grievances about the Press and its treatment of his family in front of the House of Commons Culture Select Committee.

For what possible purpose? Certainly, some bad judgment decisions were made by the more excitable newspapers, who have been punished with hefty libel payments and widespread approbation for their troubles. Surely that is an end to the matter?

No. Mr McCann is not finished complaining. Yet the more and more he complains about what happened in the aftermath of his daughter's disappearance, the more I feel he is attempting to assuage his own guilt for failing to be there when she needed him most.

Still, it's not his fault that these useless Select Committees, stuffed with the third rate and the Parliamentary walking wounded, give an indulgent platform for anyone with a grievance.