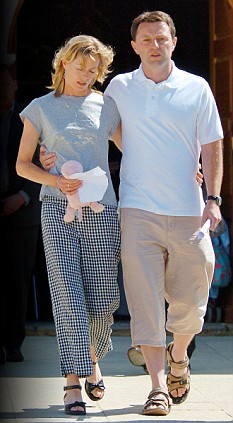 Loss: Kate and Gerry McCann in the days after Madeleine's disappearance
Tuning the car radio into a late-night BBC phone-in programme during a long motorway drive, a heated debate caught my attention.

'What sort of parents would leave their three-year-old daughter alone in an apartment and go off for dinner?' one angry caller would demand to know.

Then someone else would counter: 'They did nothing wrong. This could have happened to anyone.'

As I listened, it slowly became evident that the girl in question had vanished a few hours earlier from a holiday resort in Portugal, and that she seemed to have been abducted from her bed as she slept.

By the following day, the first heart-melting photographs of 'Missing Madeleine McCann' had been published in the newspapers, etching this grimly compelling story into the national consciousness.

And soon afterwards, I was dispatched to the Algarve to report the hunt for the snatched-away cherub.

Tomorrow marks the second anniversary of Madeleine's disappearance, yet this saga has since taken so many twists and turns, and invoked such prurient fascination, that it might have happened only yesterday.

Two years and millions of words later, the questions show no sign of abating. 'What do you think happened to her? Could she still be alive? Where is she now?' I am invariably asked, if ever I mention that I spent many weeks investigating the Madeleine McCann mystery.

Like every other reporter who has striven to solve this perplexing case, not to mention all those expensive private investigators and the inept Portuguese police, I am no nearer to knowing the answers today than I was on that May afternoon when I first arrived in Praia da Luz.

But over recent months, having sifted again through my notebooks, scoured the internet, revisited old contacts and observed Madeleine's parents, Kate and Gerry, campaigning relentlessly and indefatigably for their daughter's return, I have come to one definite conclusion.

It is that whatever became of the slumbering Madeleine on that dreadful Thursday night, her parents played no part in her disappearance.

In early September, 2007, during perhaps the most sensational week of the inquiry, Kate McCann was declared an arguida (an official suspect) by the Portuguese judiciary.

During her ensuing interrogation, she was treated in a manner which bordered on brutality - remorselessly bullied and hectored in a marathon grilling that would have tested anyone's inner resources to their limits, let alone that of a grief-stricken mother.

At that time, amid mounting speculation about the McCanns' possible culpability, I wrote an article that caused something of a stir and, I am told, exacerbated Kate and Gerry's anguish.

(It also angered my wife, who, with a mother's instincts, has steadfastly believed the McCanns from the outset.)

In that piece, which was based on the facts in my possession - aligned to gut feeling - I voiced the suspicions of many colleagues and a surprisingly large proportion of the watching public, by admitting that I had nagging doubts about the couple's innocence.

It was an honestly held opinion, but now, on the second anniversary of Madeleine's disappearance, I have to confess that I was horribly wrong.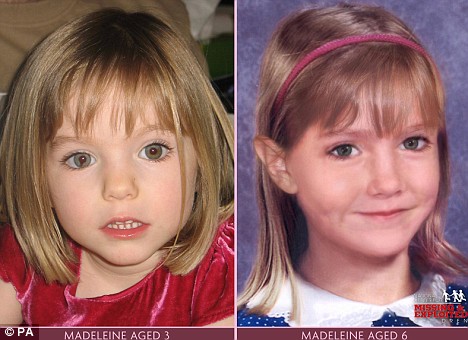 One of two new posters which show Madeleine McCann as she was aged three, and how she might look now, aged six.
Why, though, did I think back then that they might be in some way culpable, and why, two years after their daughter vanished, have I so radically changed my views?

As the spring of 2007 progressed, opinions about Kate and Gerry McCann polarised in an extraordinary way, and they found themselves the subject of intense scrutiny.

It was fuelled by their decision to launch an international media campaign, the likes of which had never been seen before, in the hope that it would keep Madeleine in the news and hasten her return.

They hired a succession of PR experts and private investigators, set up an internet site that kept people up to speed with every facet of the case via Gerry McCann's strangely breezy web diary, jetted around the world to appear on TV and even secured an audience with the Pope.

All this frenetic activity was paid for by a fund whose coffers were swelled by tycoons such as Sir Philip Green and Sir Richard Branson; and it made many people deeply uneasy.

Ironically, discussion of their campaign techniques also distracted the world from the very objective the McCanns and their supporters were trying to promote: namely, finding their missing little girl.

Observing from close quarters, I was among those who found it all rather unedifying. During those early months I was perturbed by the McCanns' demeanour.
Clinging for comfort to Madeleine's favourite soft toy, Cuddle Cat, Kate appeared unreachably distant.

Her husband, by contrast, seemed positively chipper, and there were days when the Leicestershire cardiologist almost appeared to relish his highprofile, globetrotting new role.

With hindsight this was a ridiculous and unjustifiable rush to judgment. For how can any of us know what constitutes 'appropriate' behaviour for parents robbed of a child so swiftly and left in limbo, unable to escape the darkest fears of their imagination?

As their spokesman Clarence Mitchell remarked to me this week, after it was suggested that Kate again appeared close to the edge on returning from an appearance on The Oprah Winfrey Show in America, the couple would have been damned in some quarters however they had reacted.

He was right, but I was not alone among those who allowed their personal observations of the McCanns to colour their opinions about the case.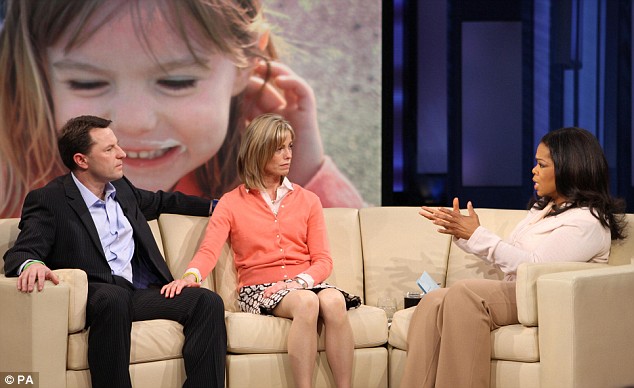 Gerry and Kate McCann talk with Oprah Winfrey about the ongoing search for daughter Madeleine who went missing two years ago this Sunday
And the more I examined the story, as they and their team presented it (in the absence of any information from the legally constrained Portuguese police), the more sceptical I became.

There were all manner of reasons why the suggestion that some fiend had simply carried off Madeleine into the night just didn't seem to add up.

For one thing, Praia da Luz is not some bustling, mainstream Mediterranean resort where a stranger could easily slip in undetected.

It is little more than a village, serviced by one main access road. In early May, it is particularly quiet (the more so now that many holidaymakers refuse to venture there).

Furthermore, the apartment the McCanns had rented was on the ground floor, on the corner of a well-lit street and passageway.

Although the McCanns and their friends - the so called Tapas Seven - were dining in a restaurant obscured by a 6ft wall, they were less than 100 yards away.

Examining this scene time and again, measuring out precise distances and times, it seemed inconceivable that anyone would have the audacity, let alone the wherewithal, to break into the flat and snatch a three-year old girl sleeping beside her younger twin siblings without being caught.

The alternative theories seemed equally outlandish. Some ventured that Madeleine had woken up bewildered in a strange country and wandered off to look for Mummy and Daddy, only to fall down the freshly dug roadworks by the apartment, which were filled in a few days later.

Or had she been snatched by paedophiles and smuggled out of Portugal, perhaps across the Spanish border an hour's drive away, or on a waiting boat - a possibility that gained credence after witnesses said they had seen a girl resembling Madeleine with a man near the harbour?

As this last scenario gathered momentum, I went to Morocco, following one of many supposedly reliable eye-witness sightings of the little blonde girl with a distinctive 'flash' in her right eye.

The trail led to a remote village high in the Atlas mountains, where Madeleine was believed to be held captive in some farmhouse - but, like so many other such claims in Belgium, Holland, Spain and, most recently Malta, it came to nothing.

In the meantime, the spotlight had fallen on Robert Murat, an entrepreneur of mixed British and Portuguese extraction whose mother lived just a few hundred yards from the McCann apartment.

In the estimation of one over imaginative reporter, he appeared to have acted strangely while working as an interpreter for Portuguese police investigating the disappearance.

Such was the police's desperation to solve a case that threw their deficiencies into stark relief that, without any discernible foundation, Murat was also made an official suspect.

Every aspect of his personal life was minutely examined, and when it was found that he had made a late-night phone call to a Russian computer nerd with whom he was friendly on the night Madeleine was taken, this was taken to be highly significant.

Murat was then the subject of all manner of lurid smear stories. Yet when I tracked him down at his sister's country guesthouse and became one of the few reporters to interview him at length, I did not recognise the man in these articles.

As he spoke lovingly about his own infant daughter, and described how it felt to be falsely accused of the most terrible crime imaginable, I became convinced of his innocence - and wrote as much.

Yet, at that stage, I still couldn't be so sure about the McCanns, and when Kate was arrested I came out and said so.

I asked Clarence Mitchell this week how they had reacted. 'Kate and Gerry didn't like the piece, but at the end of the day you have the legitimate right to question anything as a journalist.
'Given the flavour of what came out in the Portuguese media at that time it was understandable; regrettable but understandable.

'But when you meet them, and get to know them, you realise quite quickly that they aren't making this up. And when Madeleine is recovered, a lot of people will regret what they wrote.'

Sadly, I am not at all sure that she ever will be found.

Flawed as the Portuguese police case against the McCanns clearly was, it is not so much the hard evidence that now convinces me that I was wrong, but our old friend gut instinct, which in my case has completely changed after following the case from a distance for many months.

I have come to admire the McCanns for their cussed determination and refusal to alter course, despite all the criticism.

When I spoke to Madeleine's two grandmothers this week, that admiration was cemented. 'The whole family are physically exhausted. Kate, in particular, is very tired after coming home from America,' her mother, Susan Healy, told me from her Liverpool home.

'She has had a hectic couple of weeks and really needs to recharge her batteries, but I don't think she has thought about stopping. Not for a minute. I don't think either of them can stop - that's the awful thing.

'They are just stuck in a situation where they don't have a lot of control. The only control they have is to remind people that Madeleine is still missing. That is why they do it.

'You have to understand that everything Kate does - everything - is done because she wants her daughter back. That's the only question they ever ask themselves: will this help us find Madeleine? Nothing else is of any importance.

'If Kate ever gets to the end of the line - I mean, if they got to the stage where they thought there was nothing more they could do - then that would be very difficult. But it would appear that they haven't reached that stage.

'Madeleine is their daughter and they've simply got to carry on. I don't know whether they would call it optimism or not, but they have to keep hoping. If they shrugged their shoulders and said "OK, she's not alive any more," they would be letting her down, wouldn't they?'

I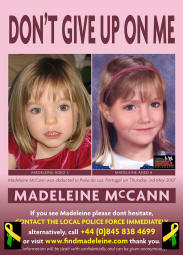 Hope: One of the posters being released by the Find Madeleine Campaign
n Glasgow, Mr McCann's mother, Eileen, told me much the same thing. 'There's nothing to say that Madeleine isn't alive, so why would they think otherwise?' she said. 'We never even discuss any other possibility.'

You can only applaud such spirit. But if, against all the conceivable odds, Madeleine really has survived, what has become of her?

This week, in a TV reconstruction of her abduction, the latest private detectives to be hired by the McCanns - two experienced former CID men from the North of England, whose no-nonsense approach contrasts sharply with that of their expensive and unproductive predecessors - may uncover fresh clues.

After sifting through reams of previously unexamined Portuguese judicial documents and reinterviewing key witnesses, there is talk of a new 'mystery man' apparently seen loitering near the apartment on that fateful Thursday night.

The programme will not solve the most enduring and troubling missing person inquiry of modern times, of course. Nor will it silence the whispers from those who still harbour lingering doubts about Mr and Mrs McCann.

Nevertheless, we can be sure that they will continue to carry their cross with stoicism.