As the storm over MPs' expenses rages, Question Time has been the lightening rod for angry voters to voice their views. Katherine Rushton talks to Mentorn Media's creative director
Five opinionated panellists, an unpredictable audience to grill them and minimal editorial control: Question Time, as executive producer Steve Anderson notes, might be hard to get off the ground these days.

"None of the questions get rewritten," he says. "None of the politicians get told what they are going to be asked. When I first came to the show, I was terrified of how little we knew about what was going to happen.

"We're lucky the BBC has lived with the show so long and understands it. All these control freaks who exist now in commissioning across all the broadcasters, they'd throw you out of the window… It could feel too risky."

Yet BBC1's current affairs stalwart is going from strength to strength. Last month, an edition from Grimsby in which a furious audience heckled Margaret Beckett over expenses got 3.8 million viewers - the series' best-ever rating. The following week, BBC1 controller Jay Hunt made the most of the scandal by moving the show for one week, from its usual 10.35pm slot to 9pm. The strategy paid off, and this conservative 30-year-old format comfortably won the slot against the likes of Taggart and Katie & Peter: Stateside with 3.7 million viewers (17.1% share).

For Anderson, who is also creative director of Mentorn Media, the success is part and parcel of an ­"incremental" evolution of Question Time, in force since the company took the reins in 1999.
"Any change you make has to be almost invisible," he says. "I think Question Time is the closest thing BBC1 has got to Radio 4 and the audience that watches it is really very similar to the audience of R4. We are custodians of their ­property and you treat it with care and respect."

First, it introduced a non-political fifth panellist to offset the party-­political line-up, then it focused on ­"hardwiring" the show into the news - booking guests later so it could tailor them to that week's stories. More recently, celebrities such as Will Young and Fern Britton have joined the panel, and the show has moved from universities and leisure centres to council estates and schools, courtesy of new portable seating.

The latter is an unglamorous addition that makes a huge difference, says Anderson. "[Before], when we went to ­Liverpool - my city - we went to the University of Liverpool. On the council estate where I lived, in Kirkby, the University of Liverpool was some ivory tower you'd never go to. Question Time is not some middle-class ghetto."

From 2010, it is not just the filming that will move. The centre of production is being shifted, lock, stock and - debatably - barrel, to Scotland in line with the BBC's nations and regions targets. Presenter David Dimbleby has been vocal about his anxiety over the plans but Anderson is more circumspect, preferring to fix the problem behind the scenes. He will not go into details but says Mentorn has been working on a plan that enables him to remain with the programme and as a London resident - and that the BBC is currently "very receptive".

He is equally coy on Question Time's position in the schedules, insisting 10.35pm is the right place for it despite the rip-roaring success of its 9pm experiment, and despite its current weekly clash with Newsnight on BBC2. "Sadly for Newsnight, it normally comes off a lot worse from the clash than Question Time.

"Question Time is such a big event now that the political classes don't want to miss it," he says. But doesn't the BBC cannibalising its own audience seem a bit, well, mad? Anderson laughs sheepishly. "I don't know. It's not for me to say." Understandably, he does not want to rock the boat with the BBC. Besides, he is only too aware of what makes a good news story.

Anderson started out as a print journalist when, aged 14 and dreaming of becoming the Liverpool FC reporter on the Liverpool Echo, he volunteered regular reports on school football matches for his local paper, the Kirkby Reporter. That paved the way for a school-leavers' traineeship at South Lancashire Newspapers. By 19, he was interviewing Harold Wilson and, judging from his litany of adventures, he has covered most major wars and events in UK politics since.

It's a relief to find Anderson affable not intimidating. Even his boasts (the day he gatecrashed an ITV interview to snare Michael ­Heseltine - who had just resigned as defence secretary - for the BBC) are told with a sort of twinkling nostalgia you would expect from a war hero's tales of derring-do.

All the same, after two decades working for broadcasters - latterly as ITV's head of news and current affairs - joining the indie sector came as a jolt. "For my last Christmas at ITV, I got something like 400 Christmas cards and for my first Christmas at Mentorn, I got four," he recalls.

While Question Time is very definitely Mentorn's "blue-chip" calling card, the indie also has form in other genres, with drama hits such as Britz and Endgame and shiny-floor shows such as Sky 1's Hairspray: The School Musical. However, it is factual programming that fits most closely with Anderson's interests, and that is forming the bedrock of Mentorn's business in the economic downturn.
It is, Anderson says, a "double-edged sword". On the one hand, it is the easiest genre in which to trim budgets without compromising the quality or "mightily" annoying the talent. On the other, it is taking the place of other, more expensive shows broadcasters can no longer afford.

"There are certain slots on certain commercial channels that would ­normally be £700,000 dramas and have now turned into £200,000 factual productions. There are at least two miniseries that we've [won commissions for] that would raise eyebrows in normal times." Unsurprisingly, he won't name names.

Certainly Mentorn's subsidiary Folio is doing an impressive trade in "blue light" shows such as BBC1's Traffic Cops and Five's Soho Blues - which are quick to make and rate strongly (Motorway Cops attracted 6.5 million viewers on BBC1 in January). Meanwhile, Anderson has masterminded a string of access-based docs on the McCanns' hunt for Madeleine, for the BBC, Channel 4 and ITV. Proof, surely, that must-have content still wins commissions.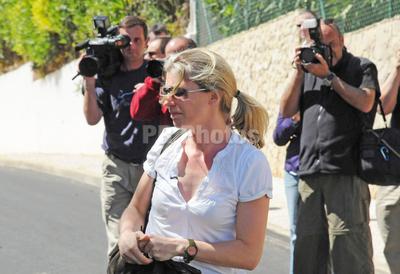 Emma Loach
Both types of programme rely on Mentorn's ability to secure access. Anderson makes sure he has the right staff to do this (he hired the director, mother of three Emma Loach, to forge a relationship with Kate McCann) but also plays the long game, entering a two-way relationship with his subjects whether calculatingly or by accident. "We're not a company that goes in and does a programme about someone and then drops them," he says.

Certainly it's a strategy that has worked for Anderson - and is paying dividends for Question Time, too. He fishes in his pocket for a quote written by journalist Jeff Jarvis about Google, but that also encapsulates the series' relationship with its audience. "'The more you control, the less you will be trusted. The more you hand over control, the more trust you will earn,'" he says. "I think that's what we do."