Lawyers for the parents of missing toddler Madeleine McCann have demanded the removal of a website which claims their daughter is dead.
The Madeleine Foundation website has also been ordered to hand over leaflets published to support its claims.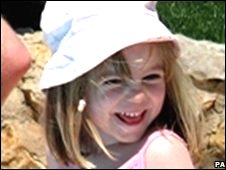 Investigations have so far failed to find Madeleine McCann
The site alleges Madeleine was not abducted and that her parents bear some responsibility for her death.
Madeleine, of Rothley, Leicestershire, was three when she vanished from the Algarve holiday flat on 3 May 2007.
The spokesman for the McCann family, Clarence Mitchell, said: "Kate and Gerry have consistently made it clear they will not dignify the actions of the so-called Madeleine Foundation with any comment whatsoever."
But he said the position of the McCann lawyers - libel specialists Carter-Ruck - was "clear".
The Madeleine Foundation says it received legal letters from Carter-Ruck at the beginning of September.
A statement on the site says it has been given until Friday 18 September to reply to Carter-Ruck's letters, and was now taking legal advice.
Earlier this year, the McCanns decided to sue Portuguese police detective Goncalo Amaral for defamation.
The decision was taken in a bid to prevent further publication of Mr Amaral's "deeply offensive" book The Truth of the Lie and his television documentary.
Mr Amaral led the inquiry into Madeleine's disappearance but was taken off the case in October 2007.