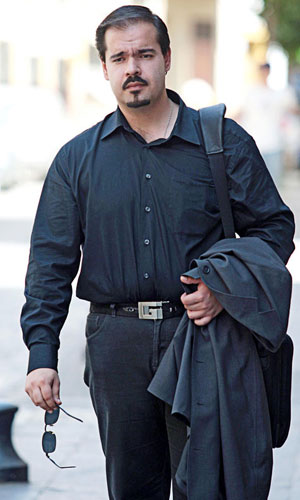 Antonio Toscano MADDY: Could she be on a Maltese yacht?
A GIRL resembling missing Madeleine McCann was seen being taken aboard the yacht of a wealthy Arab family, police in Malta have been told.

The island's overstretched force was last night desperately trying to trace the boat.

Several people contacted police to report the sighting. Some were so convinced the girl was Madel­eine that they tried to approach the Arab family but were blocked from getting near the yacht by security guards.

All ports in the region are being monitored and Malta's special forces have been sent to the area.

The total number of reported sightings of Madeleine in Malta has reached 29 since she disappeared on May 3 from the Portuguese resort of

Praia da Luz while on holiday with her family.
It is a distinct possibility that Madeleine has been held captive on a vessel like the one seen in Malta a Portuguese official

Last night a Portuguese official said: "It is a distinct possibility that Madeleine has been held captive on a vessel like the one seen in Malta so we are very keen to track this boat very quickly". A charity telethon broadcast in Malta on Sun­day was dominated by Madel­eine, with the island's 1992 Euro­vision song contest entry Mary Spiteri dedicating her song Little Child to the missing girl.

Today a Spanish investigator who claims to know Madeleine's kidnapper is set to hand over his evidence to police.

Antonio Toscano says he is certain the four-year-old was snatched by a French sex offender on the orders of the wealthy kingpins of a Europe-wide paedophile network.

Toscano's claims first came to light three weeks ago but have so far prompted a lukewarm response from the Portuguese authorities, who want him to provide evidence to support his allegations.

Television investigator Toscano, whose story was published in Spain's respected daily El Mundo, also works as a private eye specialising in missing children cases.

Last week he emailed the Portuguese police with the full name and a picture of the French paedophile.

He said Portuguese and Spanish police are working on tracking down the mystery man, a convicted paedophile said to use the alias "The Frenchman".

Toscano added that he has also passed on the names and photographs of the paedophile's associates, who are known to be at large after serving jail sentences for child sex offences.

The 36-year-old investigator insists he is "100 per cent certain" the Frenchman snatched Madel­eine. He claims the Frenchman told an informant of his that he was going to the Algarve to visit friends – only to vanish after the girl disappeared from the McCann family's apartment.

Toscano said: "I'm not willing to make any of the names public yet. The police need time to work on the information I've given them. But I hope in due course they will make both the names and pictures public as part of an appeal for information on their whereabouts."

He added: "Every other lead has fallen down. The police are now working on the first piece of credible information they've had since Madeleine went missing."

The investigator, who has solved 14 missing children cases, claims to have met the mystery Frenchman twice while investigating paedophile cases. He has offered anguished parents Kate and Gerry McCann his services for free.

A spokesman for the family acknowledged con­tact with Toscano but said he declined to provide a name for the suspect at every stage.