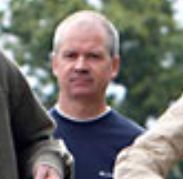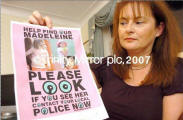 Mark McQueen, headteacher of Ursuline Primary School is godfather to Madeleine's brother, Sean. His wife Linda is currently in Portugal with Kate and Gerry McCann
FAMILIES will show their support for missing Madeleine McCann by wearing yellow ribbons for this weekend's Summer Fun Run.
One thousand runners will be given a ribbon to tie around their wrist as they set off from Crosby village on Sunday.
The McCann family has strong links with the Crosby area through close friends Mark and Linda McQueen, the godparents of Madeleine's brother Sean.
A church service for Madeleine was held in Crosby on Monday.
Mark McQueen, headteacher of Ursuline Primary School, told the Crosby Herald: "It is important to keep the profile of the campaign high and we are pleased that local families will be given the chance to show their support."
Summer Fun Run organiser Peter Harvey said: "Every family is affected by Madeleine's story and people want to help in whatever way they can.
"By wearing a yellow ribbon on our wrist every man, woman, boy and girl can show that we are standing shoulder to shoulder with Madeleine and her family.
"Although it is only a symbol of our support, it is a strong one."
Ribbons will be handed to runners as they line up for the fun run starting at 12 noon in Crosby village on Sunday.
Families will also be invited to clap as the midday siren is sounded to get runners underway on their three-mile walk and run. 'Don't You Forget About Me' by Simple Minds, the campaign's adopted anthem, will also play.
Around 800 people have already signed up for the event which will also raise cash for The Marina Dalglish Appeal and Jospice. Places are limited to 1,000 for safety reasons. Traditionally many young families join forces with grandparents to jog or walk along the picturesque route around Little Crosby.
Marina and Kenny Dalglish will be among those showing their support for the McCanns.
Madeleine's parents Kate and Gerry have given their support to the idea of families wearing ribbons during the Summer Fun Run.