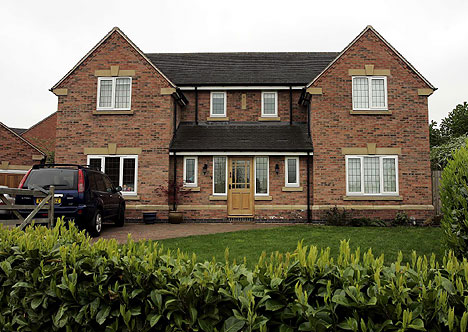 MCCANN'S HOUSE
THE parents of Madeleine McCann said yesterday they are prepared to sell everything they own to get their daughter back.

Kate and Gerry McCann spoke out after Portuguese police suggested that four-year-old Madeleine may have been kidnapped for a ransom.

Senior detectives in Portugal are working on the theory that the kidnapper may have held back on making a demand after being panicked by the huge publicity over the case.

They believe that Madeleine may still be in the resort of Praia da Luz where she was snatched as she slept in her family's holiday apartment on May 3.

The revelation came as the search for her entered its second month. The torment proved too much for Mrs McCann, who broke down and wept during a church service.

Who would ask for money for the girl, when her image is running around the world?
Chief Inspector Olegario Sousa

If a ransom demand is made, Madeleine's parents could face paying more than £1million. A fighting fund set up to pay for their campaign to find their daughter stands at nearly £582,000.

Yesterday, Kate and Gerry said they were prepared to sell their £600,000 luxury home in Rothley, Leics, if it would help to find Madeleine. Gerry, 38, a consultant cardiologist, said: "If we thought we had the money under our control and thought it would secure her safe return we would sell our house, we would do anything to get our daughter back.

"We wouldn't rule out that financial inducement might help us find her, through one route or another."

Chief Inspector Olegario Sousa of Portugal's Policia Judiciaria said: "Many motives have been suggested, including kidnap for a ransom. Whoever took the child could have had the objective of a ransom but not demanded it because they panicked after all the attention the case has received.

"Who would ask for money for the girl, when her image is running around the world? A kidnapper could have the child well hidden, close by. After 30 days there is nothing to state that the girl is dead."

Portuguese police are working on the new line of inquiry after it was revealed that forensic experts had made a dramatic breakthrough in the case. Scientists discovered the DNA of a stranger in the bedroom where Madeleine was kidnapped.

It did not belong to any of Madeleine's family, nor the British chief suspect, Robert Murat, 33. Portuguese police do not have a DNA database but so far more than 200 samples have been taken from people who were in the resort when Madeleine was snatched.

The genetic fingerprints were swabbed at a number of places in Praia da Luz, including the McCanns' apartment.
Yesterday it was revealed that police took a second sample from Murat only three days ago. Officers said the first
sample was lost, or contaminated, or not big enough to examine properly.

Samples were also taken from Murat's mother, Jennifer, 71; Russian computer expert Sergey Malinka, 22, and Luis Antonio – husband of Murat's German girlfriend, Michaela Walczuch. Malinka was on the phone to Murat on the night Madeleine was snatched.

It has been reported that the calls were discovered by police after Murat said he had not spoken to Malinka for months.