SHATTERED Jacqueline McCann fought back tears last night as she spoke about her secret trauma and admitted: I feel there's a jinx on me.
The aunt of missing tot Madeleine McCann bit her lip as she told how she found lover Alan Saunders dying in a pool of blood after a vicious hammer attack.
And as she revealed for the first time the secret agony that still haunts her, the 46-year-old said: "I'll never get the image of Alan lying there out of my mind.
"I still haven't got over losing him. Now this has happened to Madeleine I can't take it all in - I feel like I'm cursed."
Accountant Alan, 39, was battered to death by evil junkie Scott Anderson just yards from the home he shared with Jacqueline.
And last night the traumatised Scot told us: "It was horrific. I told myself it wasn't happening, it was the only way to cope.
"Now I can't work because I'm severely depressed, my concentration is gone. It's all too much."
Distraught Jacqueline, a former hospital cleaner, is the older sister of Maddie's father Gerry McCann (pictured below with wife Kate).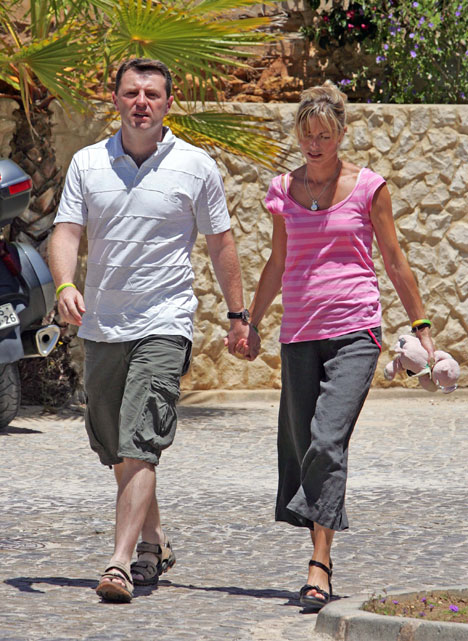 Devastated
She has a special bond with four- year-old Madeleine - who has been missing for 31 days - because they share the same May 12 birthday.
Her disappearance has rocked the entire family - and now devastated Jacqueline is struggling to come to terms with the second heartache.
She told us: "I don't know how much more I can take. They have to find Madeleine, I can't cope with losing someone else so close to me."
Jacqueline and boyfriend Alan had been dating for seven years
before he was cruelly taken from her on March 16, 2003.
She explained: "We were really happy together, Alan was a lovely person and so good to me. He was my boyfriend and best friend.
"The only problem we had was the neighbours."
Heroin addict Anderson, now 39, and his girlfriend Diane Ledgerwood, 38, made life hell for everyone living in their quiet street in Busby, Renfrewshire.
The louts blared music day and night as they partied with junkie pals. And the druggies left hypodermic syringes and bags of rubbish strewn in the road.
Jacqueline, who still lives in the street, told us: "We couldn't get any peace and I was really scared. I'd had trouble previously with break- ins and nightmare neighbours at another house. To go through it again was too much to bear."
After months of silence, mild- mannered Alan snapped as he passed the yobs' drugs den.
Anderson shouted abuse from an open window - and it was the last straw for Alan, who yelled at him to clear out of the street.
The strung-out junkie flew into a rage and ran downstairs to rugby-tackle stunned Alan to the ground. Vile Ledgerwood also ran out and joined in, raining down blows on the cowering victim.
Cowardly Anderson then battered Alan on the head five times with a hammer before he and Ledgerwood ran off, leaving him to die.
Neighbours called the police, who broke the horrifying news to distraught Jacqueline.
She told us: "I was taken along the street to identify him.
"It was one of the worst moments of my life, to see the man I loved dying in the road.
"I wasn't ready to say goodbye, I went into total shock and was unable to process what was happening.
"There is so much more I'd have said that night if I'd known that was the last time I'd see him. But he was only going a few streets away to visit his mum, how could I have known?"
Tragic Alan was rushed to nearby Hairmyres Hospital, East Kilbride, but died a few hours later.
Police swooped on the junkies' grotty home where Anderson - who had 26 prior convictions, including one for armed robbery - confessed.
In May 2004 he pled guilty to murder at the High Court in Glasgow. He was sentenced to a minimum of 13 years and is now in Shotts Prison, Lanarks. Charges against Ledgerwood were dropped.
Jacqueline was still struggling to rebuild her life when her beloved niece went missing on May 3.
She said: "There was no way I could even think about my birthday on May 12 with Maddie gone.
"It's a difficult time anyway, just after the anniversary of Alan's death, but I have to stay strong.
"I've been through so much already, I just have to hope and pray that our Madeleine is found."