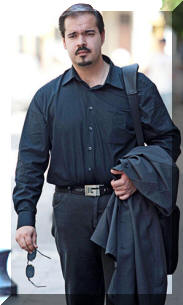 Antonio Toscano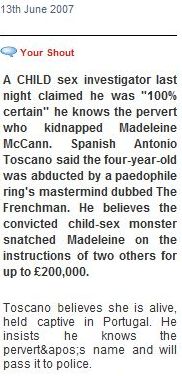 Missing girl is held by child sex ring'
A CHILD sex investigator last night claimed he was "100% certain'' he knows the pervert who kidnapped Madeleine McCann.
Spanish Antonio Toscano said the four-year-old was abducted by a paedophile ring's mastermind dubbed The Frenchman.
He believes the convicted childsex monster snatched Madeleine on the instructions of two others for up to £200,000.
Toscano believes she is alive, held captive in Portugal. He insists he knows the pervert's name and will pass it to police.
Last night Madeleine's GP mum Kate, 38, and heart surgeon dad Gerry, 39, faced fresh torment after being told of the claims.
Toscano began investigating The Frenchman after a tip-off from a mutual associate a week after Madeleine was taken from a holiday apartment in the Algarve.
The caller told him he had bumped into him in Seville, a twohour drive from the Portuguese border, a week before Madeleine was snatched in Praia da Luz on May 3.
Toscano investigated for two weeks, but The Frenchman has disappeared.
Last night he said: "I am 100% certain this is the man who kidnapped Madeleine McCann.
"The Portuguese police said they did not want me to tell them the name over the phone.
"They are sending someone to interview me. I am fully aware that if I was not right, the information would be very upsetting to Madeleine's family. But I am certain.
"I believe she is alive and probably in Portugal.'' Toscano, a former TV reporter who has helped trace 14 missing children, met The Frenchman in 2003 while investigating a European paedophile network.
The paedophile offered him a 10-minute video of children aged between five and 12 being raped and tortured, for £6,000.
Toscano said: "I found him creepy but he is meticulous and businesslike.
"People pay him up to £200,000 for a child.'
"The way he operates I don't think he will have delivered her to the people who hired him yet.
"He would normally lie low for one to two months until all the fuss dies down.
"That is why I think Madeleine is still alive."
Toscano said The Frenchman was white, thin and 5ft 7in tall.
He says he has had three telephone conversations with police chief Olegario Sousa - leading the hunt for Madeleine - who has arranged for Spanish detectives to see him.
Spanish journalist Virginia Lopez, who is investigating Toscano's claims, said: "We have been working on this information for several weeks.
"Antonio Toscano is a serious and reliable journalist.'' Last night the McCanns returned to Portugal from Morocco, where they had been raising awareness of Madeleine's disappearance.
Family spokesman Clarence Mitchell said: "We urge Mr Toscano to talk to the police directly and immediately.'' Police said they would probe Toscano's claims.