Everton has launched an international awareness campaign to refocus attention on the two-year search for missing Madeleine McCann.
The move to re-energise the campaign to find the youngster is being made as the Blues head to Portugal for their Europa League group match with Benfica at Lisbon's famous Stadium of Light on Thursday night.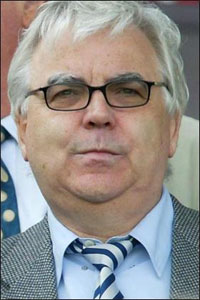 Everton Chairman Bill Kenwright
Madeleine went missing in the Portuguese resort of Praia de Luz in 2007 and since then huge international efforts have been made to locate the young Evertonian's whereabouts.
One of the first images released by Madeleine's parents, Kate and Gerry, in the wake of their daughter's disappearance 29 months ago showed the then-four-year old proudly wearing an Everton shirt.
To raise awareness of the ongoing search for Madeleine, Everton has commissioned a specially-designed T-shirt featuring the message, 'We're Still Looking For You' which is to be given to every supporter who has purchased a ticket for Thursday's match.
A total of 6,000 shirts have been produced by the Club – 3,000 bearing the logo in English and 3,000 bearing a message in Portuguese.
Everton Chairman Bill Kenwright said: "I will never, ever forget that image of a beautiful, smiling child in an Everton shirt. I believe that I was one of the first people outside the family to see it and it moved me greatly. In truth, like everyone else, I have felt nothing but deep sadness and mounting frustration as the search for Maddie has continued. However, I continue to be inspired by the dignity and the faith which Kate and Gerry have displayed throughout their dreadful ordeal.
"This is just our way of reminding people – not just in the UK and Portugal but across the globe – that this child is still out there somewhere. If we can, perhaps, jog someone's memory or breath a little fresh life into the hunt for her then it will have been worth it. I know our supporters will wear these t-shirts with pride on Thursday night," he added.
Manager David Moyes added: "My heart went out to Madeleine's family when this awful tragedy occurred – and it still does. It is absolutely vital that the hunt for this lovely, little girl continues. People do sometimes forget that football managers and footballers are also Dads – family comes first. Everyone connected with Everton Football Club simply wishes to see Madeleine reunited with her family."
If you are going to Lisbon and wish to show your support for the ongoing search for Madeleine, you can pick up a t-shirt from Goodison Park this week.
The Club Everton lounge at the Park End of the stadium will be open on Tuesday (October 20) between noon and 9pm. It will re-open on Wednesday from 9am until late.
In addition to the allocation available at Club Everton, there will be t-shirts available at Everton One and Everton Two from noon on Tuesday (October 20)
The intention is for as many Evertonians as possible to be wearing the t-shirts in the Portuguese capital.
Any supporters who are unable to collect t-shirts prior to their trip to Lisbon will be able to do so from Liverpool Airport. Details of collection points at the airport will be announced later this week.
Please note t-shirts will be made available free of charge to those supporters who produce their match ticket or travel documentation to Portugal.