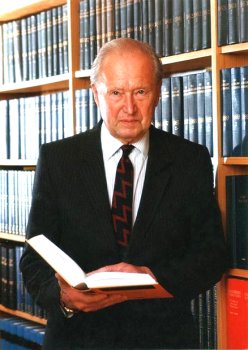 Peter Carter Ruck
Carter-Ruck is, according to its own boasts, among the most aggressive firms of lawyers that can be hired by a corporation anxious to head off hostile media coverage. Recently, the firm has been seeking to carve out for itself a niche in the field of corporate "reputation management". This involves making use of the restrictive nature of British laws on libel and breach of confidence, and working in close concert with firms of public relations lobbyists.
The firm does not come cheap, with partners believed to charge more than £450 an hour for its services. Carter-Ruck has also been prominent, however, among firms developing the much-criticised "conditional fee agreements" as a libel weapon. Under these no-win, no-fee rules, critics allege that a client with no money can hold media organisations to ransom. If it wins a court case, the firm can charge up to double fees to the newspaper or broadcaster. But if the media organisation successfully defends itself, it will find it hard to recover its own legal costs.
The firm has successfully acted for victims of media unfairness, winning unprecedented damages for the McCann family, for example, when tabloids printed stories falsely implying that they were to blame for their daughter Madeleine's disappearance in Portugal.
In the case of Trafigura, the Carter-Ruck partner Adam Tudor has been co-ordinating legal moves with Neil Cameron of Bell Pottinger, the firm of lobbyists founded by Tim Bell, once Margaret Thatcher's favourite PR man. They have brought legal actions, complaints or threats against foreign media organisations, including the Dutch paper Volkskrant and the Norwegian state TV channel NRK. They also launched a libel suit against Martyn Day, the senior partner of the law firm which brought a class action for compensation on behalf of 30,000 Africans who say they have been made ill by Trafigura's toxic waste. Another libel case, which is still live, was launched against the BBC after a Newsnight programme on the toxic waste disaster in Ivory Coast in 2006.
On its website, Carter-Ruck promises that it can often "nip in the bud" the prospect of adverse media coverage by going over the heads of reporters to newspaper lawyers and making threats. It boasts of being able to obtain injunctions prohibiting publication of information "often in a matter of hours". It claims wide experience of working alongside PR agencies on behalf of blue-chip corporations "facing sustained and hostile media interest".