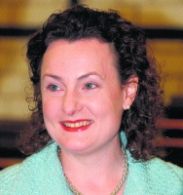 Justine McGuinness
A public relations expert who helped in the search for Madeleine McCann accepted a donation to charity today over a claim that she overcharged the fund set up to find the missing child.

Justine McGuinness brought libel proceedings in London's High Court over an October 2007 article in The People.

Her solicitor, Amber Melville-Brown, told Mr Justice Eady that McGuinness was the communications strategist for the Find Madeleine Fund from June to September 2007.
The newspaper story alleged that she had charged the fund £20,000 in excess of her agreed fee and that, following a discussion with Gerry McCann in the summer of 2007, she was forced to part company with the fund.

Melville-Brown said: "In fact, Ms McGuinness did not overcharge the fund and indeed bore many of the necessary expenses herself. Neither was she forced to resign.
"As initially agreed with the fund, she left in September 2007 to meet other pre-arranged commitments."

Given McGuinness's commitments to providing support and assistance to the McCanns and the fund, and in order that her hard work and professional integrity should not be questioned, she felt she had no option but to bring proceedings to ensure that the true position was recognised and that the false allegations were not republished."

Melville-Brown said MGN Limited had accepted that the allegations were incorrect and apologised.

It agreed to make a donation to an undisclosed charity of Ms McGuinness's choice.

MGN's solicitor, Holly Mason, apologised for the distress and embarrassment caused.