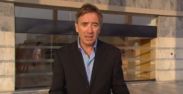 MARTIN BRUNT
I don't know why, but I'm still finding it impossible to get a straight answer about Madeleine McCann from Leicestershire police.

I called to ask about Madeleine and almost before I'd asked the question was being given the old brush off: "It's a Portuguese investigation, not ours."

The Portuguese authorities closed their investigation in July last year. The press officer said she hadn't heard or read about that.

Apparently, the Leicstershire force still passes on any potential leads to the dynamic Portuguese police who established precisely nothing about Madeleine's disappearance during their 15-month inquiry.

I gave it 24 hours and called back. This time I was told that all the Leicestershire cops involved in the Madeleine case were on half-term holiday. So push off.
She didn't actually say that, but it felt like she had.
Still, onwards and upwards. The last time I asked a Leicestershire press officer about Madeleine she got hysterical.

I hope that privately, at least, Madeleine's home force shows a bit more care and thought towards her family.