The Premier League club is highlighting the cause as the team travels to Portugal - the country where the little girl vanished two years ago while on a family holiday in
Praia de Luz
.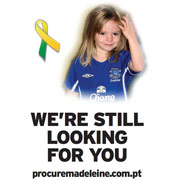 Madeleine wearing her Everton shirt
This is just our way of reminding people - not just in the UK and Portugal but across the globe - that this child is still out there somewhere.
Bill Kenwright, Everton chairman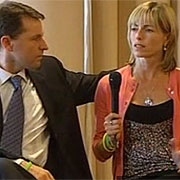 Kate and Gerry McCann in Portugal
The team faces Benfica on Thursday in a Europa League match and have commissioned 6,000 T-shirts for fans to wear.
Each shirt bears the message: "We're still looking for you".
Some 3,000 shirts show the message in English with the other half are written in Portuguese.