Gerry, 41, said: "It is the last place she saw Madeleine and there is an emotional bond. There are people we would like to see and places Kate would like to return to.
"Now things are less intense she would like to do that in private. It is going to be a very emotional experience."
Gerry, speaking at a legal conference in Madrid about media coverage of the case,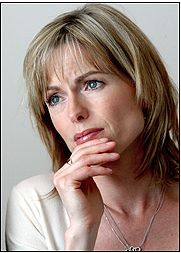 has been back to Portugal's Praia da Luz since cops cleared the McCanns of any involvement in Maddie's disappearance.
Kate, 41, has always felt "too raw" to return. But she expressed a wish to go back during a trip to Portugal last month to see the pair's Lisbon-based lawyers.