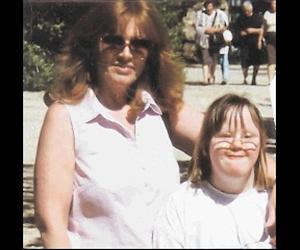 Anne Greig with daughter Hollie when she was a youngster
Grampian Police have reinterviewed a disabled woman who claims she was abused as a child by an Aberdeen paedo-phile ring which included a senior police officer and a leading Scottish sheriff.
Hollie Greig, 29, who has Down's Syndrome, claims she was abused for 14 years from the age of six, and has given police the names of some of the men she says assaulted her.
Hollie and her mother, Anne, have been campaigning since 2000 when police were first informed of the alleged abuse, for criminal proceedings to be taken against those she says were involved.
The abuse is alleged to have taken place in Aberdeen, and Hollie and her mother claim to have made a statement at Bucksburn police station in July 2000 naming a senior police officer, who has since died, and a sheriff who still serves.
The Press and Journal knows the identities of both men but has decided not to make them public at this stage.
No charges have ever been brought, although Hollie received '13,500 compensation from the Criminal Injuries Compensation Authority in April this year.
It is understood that followed evidence from a Grampian detective inspector who described Hollie as 'a truthful witness to the best of her ability and an entirely innocent victim'.
Last night, Mrs Greig, 58, said her daughter has had nightmares and suffered panic attacks since she first told her mother about the alleged abuse nine years ago.
'We've been battling this for a long time now and we are angry with the way things were handled right from the start,' she said.
'We were practically forced out of our home in Aberdeen and fled to Shropshire when this whole thing came to light. During these past nine years myself and Hollie have been called liars and had to put up with constant insults but we will continue to fight despite the endless brick walls we hit.'
Mrs Greig said she ordered two psychological reports on Hollie to dismiss claims she had invented the allegations.
'Hollie was asked to draw pictures and describe sexual acts to see if there was any signs she might be lying.
'Both reports, carried out by two separate doctors, came back saying that 100% she was telling the truth and had been sexually abused.'
Mrs Greig said Hollie's campaign would continue until justice has been done. 'All Hollie wants is justice. She says this has ruined her childhood. She doesn't trust anyone and I'm the only person she can be around for any length of time.'
Mrs Greig said two officers from Grampian Police visited Hollie in September and spent three-and-a-half hours interviewing her at a special facility in Shrewsbury.
Hollie and her mother, who moved to Shropshire to escape the alleged abuse, have enlisted a group of high-profile supporters, including, it is understood, singer Annie Lennox, to support their demand for a prosecution.
Mrs Greig claims that two of the alleged abusers moved to Portugal a number of years ago and that she went to her local police station in Shrewsbury to pass on that information when news broke of the kidnapping of Madeleine McCann.
Madeleine, who was three at the time, was kidnapped from her family's holiday apartment at Praia da Luz, in the Algarve, in 2006. Police believe she was taken by a paedophile.
One of Hollie's supporters wrote to the Crown Office in Edinburgh earlier this year querying the decision not to prosecute and received a reply from Andrew McIntyre, Head of Victims and Diversity, setting out the criteria for determining whether to bring charges.
His reply suggested that, in Hollie's case, the decision was based on the lack of independent corroboration. Mr McIntyre gave an assurance that police were continuing to investigate 'aspects of the case' and said that the ongoing inquiries prevented him from commenting further.
Grampian Police last night confirmed the force was investigating an allegation of historic sex abuse.
A Crown Office spokes-woman said late last night: "We have not received any report from the police.
'If we do receive a report it will be carefully considered in due course."