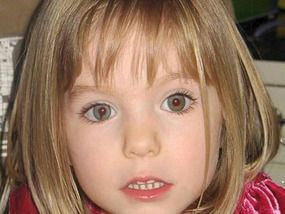 Madeleine McCann was taken in 2007
BRAVE Kate McCann told yesterday how she felt "closer" to her missing daughter Madeleine after making an emotional trip to the resort from where she was snatched.
Kate, 41, admitted that although her pain felt more raw in Praia da Luz, Portugal, she also felt more at peace.
And she described how she and husband Gerry gained comfort from a visit to the local church yesterday.
Kate said: "Early this morning we went to the lovely little church of Nossa Senhora da Luz. It was so quiet and peaceful – a real sanctuary.
Although our pain feels much rawer here, it is comforting at the same time since we feel closer to Madeleine.
"We then walked down to the rocks on the beach with its crashing waves and sense of vastness and freedom – another place where I have always felt able to reach out to Madeleine and find a little solace."
Kate told how she had longed to return to the resort for two years for personal and emotional reasons. She said: "We have no reason to be disappointed. For us it was important to be there, especially for Madeleine."
Kate and her husband Gerry hurriedly left Praia da Luz on September 8, 2007, and flew back to Britain after they were wrongly made suspects in Madeleine's disappearance.

LEGAL ACTION: Gerry and Kate McCann outside court in Lisbon
On Friday, some 824 days since that day, the GP made the heart-rending return journey with Gerry to try to find some peace from her torment and discover what really happened to Madeleine.
In an exclusive interview with the Sunday Express the McCanns' lawyer Isabel Dwarte said: "She is eager to be in the place where she left everything. She told me it was very important for her to be in the place where Madeleine had disappeared.
"It was a very important part of her life. Psychologically and emotionally she needs to be there, she has to be in that place again.
"She wanted privacy, not to make a fuss or a riot but she cried when she was talking about this to me."
The couple, from Rothley, Leics, had hoped to make a private visit to the Mark Warner Ocean Club complex and apartment 5a from where Madeleine was taken on May 3, 2007, just a few days before her fourth birthday.
However, details of their trip soon emerged and scores of journalists descended on the resort, forcing them to put their visit on hold.
Mrs Dwarte said: "Mrs McCann is more confident in finding Madeleine. She has a new force, a new strength. She added: "I like her very much. As a mother myself, I cannot comprehend what she is going through."
The McCanns' 150-mile drive to Luz followed a day of high drama in Lisbon on Friday when they had a fleeting encounter at a civil court with ex-police chief Goncalo Amaral. He was attempting to lift a ban on his book Truth Of The Lie which suggests that Madeleine is dead.
Mr Amaral, who was removed from the Madeleine case, is being sued for £1million by the McCanns who say his theory is untrue and hampers their search for Madeleine.
When the case was postponed until January, Mr Amaral stayed in Lisbon to launch his second book, called Amordaca Inglesa, or English Gag, which he claims "explains the legal process and my views of freedom of speech in Portugal".
Among those in the audience buying a copy of the book was Mrs Dwarte, who won the injunction banning the sale of his first book.
She said: "I want to analyse it and see if there is anything to do, if there is something that violates the rights of my clients."