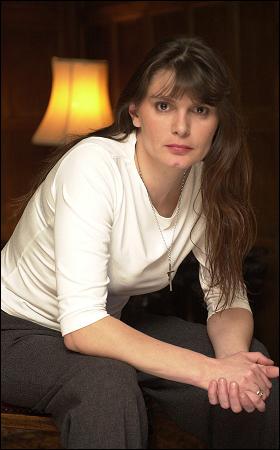 BATTLING - Sarah can communicate through squeezes of her hand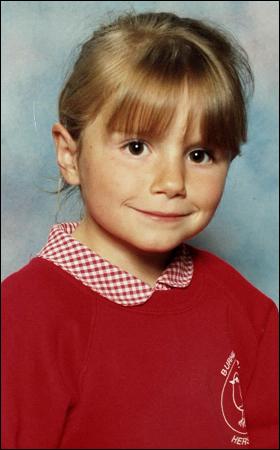 MURDERED - Daughter Sarah
DESPERATELY ill Sara Payne was urged by her shattered family last night: Keep on fighting.
There were signs of hope as the stricken victims campaigner began responding to comforting squeezes of her hand by squeezing back.
And as brave Sara lay in hospital hooked up to life support systems she even managed to open one eye with her fingers.
Younger sister Fiona Crook, 36 - who has kept a vigil at her hospital bedside since she fell ill on Monday from complications following previous brain surgery - told the News of the World:
"She's always been so strong. She's never given up. In my heart of hearts, I feel she'll get through this.
"But, I have to be honest and say I'm not sure, and I'm prepared for the worst. Everyone has a limit, and Sara's been to that limit so many times already.
"You worry, what if she thinks to herself I can't take any more of this? She's been through so much in her life - but she's a fighter, not a quitter."
At one stage medics gave Sara, 40, just a 50-50 chance of survival. She remains under round-the-clock care in a neurological intensive care unit on a ventilator.
The mum - who has battled to keep children safe from paedophiles since her eight-year-old daughter Sarah was murdered in 2000 - has undergone two life-saving brain operations in 36 hours.
She first suffered a brain aneurysm 18 months ago - and doctors believe she has either suffered a second burst blood vessel or a clip used to heal the original one has somehow worked loose.
Sister Fiona - who looks remarkably like her - said: "The doctors said two aneurysms would be extremely unlucky. And they'd hardly heard of a clip coming loose before.
"Sara's been so unfortunate. It's unbelievable. If I could say anything to her now, it would be wake up. Please just wake up."
But she said her sister had been responding to questions with squeezes - one for yes and two for no - from her right hand although there is no movement down her left side.
"And there was a very special moment in the hospital yesterday which shows, despite everything, Sara's sense of humour is very much intact," said Fiona.
"A doctor was repeatedly asking her to open her eyes. She wouldn't. So I said to her 'for goodness sake Sara just open your eyes' - and just like that she lifted her right arm and prised open one eye using her finger and thumb.
"She's got her eyes closed, but she's aware. It's incredible just how strong she is. It's as if she knows it isn't her time yet, and she's not going anywhere."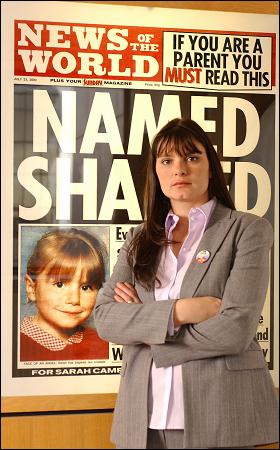 FOR SARAH - Sara led campaign in her daughter's name
Sara fell ill with an agonising headache just after 10pm on Monday at her home in Hersham, Surrey. Fiona said: "It just suddenly came on. She became concerned, and did a few tests that she'd seen from a stroke awareness advert." The family called an ambulance, and Sara was rushed to nearby St Peter's Hospital, Chertsey. After an assessment there she was transferred to St George's Hospital in Tooting, south London - the unit where she was treated for her original aneurysm.
The Sarah's Law campaigner then underwent a gruelling four-hour operation on Tuesday and seemed to stabilise.
But she suffered complications, developing a massive blood clot in the brain, and was rushed in for yet another emergency four-hour operation on Wednesday afternoon.
Fiona said: "The doctors said her chances of survival were 50-50 and that if she survived this operation the next few days were critical.
"But no one could ask for more than the wonderful, dedicated one-on-one nursing care she is getting." For her children, Ellie, aged six, Charlotte, 15, and eldest boys Luke, 21, and Lee, 22, it has been a devastating week.
Fiona said: "We've been completely honest with the children. When Sarah was abducted my sister made a point of always being honest with the kids.
"So we've been the same. We've left it up to them whether they come to hospital to see her. So far they've not wanted to. I think they are scared of what they might see."
And for Fiona who has spent nearly all her life near to Sara, the pain is almost too much to bear. Fighting back tears, she said: "We're incredibly close. I don't really function without Sara. We've always been there for each other. She's always been strong for me. We bounce off each other."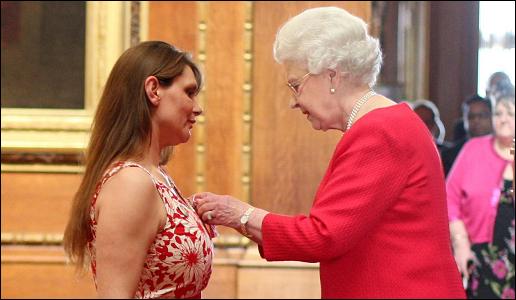 HONOUR - Sarah was awarded an MBE by the Queen
As Fiona talks about her sister, she repeatedly touches the silver figure of Christ on the cross hanging around her neck - given to her by Sara on her 31st birthday.
Sara had worn it throughout her daughter's abduction by paedophile Roy Whiting after being given it by a well-wisher to ensure that the schoolgirl was brought home safely.
Then she passed it to her beloved younger sister. Fiona said: "It did it's job, because at least we got Sarah back in the end." The cross is a symbol of the tragedies Sara has suffered. After losing her daughter, she then lost her eldest brother Paul to lung cancer in January 2003. In the same year, Sara gave birth to her youngest child Ellie, but lost her twin.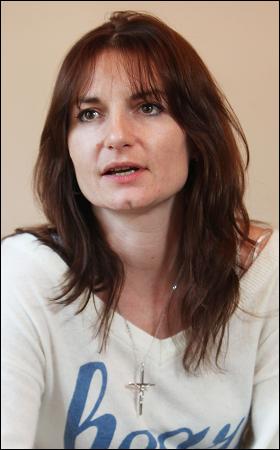 HOPE - Fiona believes Sara will survive
Only a year later, her mum, Elizabeth Williams, died of lung cancer. And in 2007 her father Brian Williams died of pneumonia.
Fiona said: "Sometimes you think, how much more can one person take?. She doesn't deserve this."
But Sara's credentials as a battler are strong. Over the last nine-and-a-half years she's campaigned in her daughter's memory, with the help of the News of the World, for Sarah's Law. It calls for the legal right of parents and carers to have contolled access to information about high risk predatory sex offenders in the area who may pose a risk to their childen.
Sara - who always describes herself as a mum of five because she believes Sarah is still with her - took her campaign to Parliament, to party conferences, and to rallies up and down the length of Britain.
She has worked tirelessly with two Prime Ministers and five Home Secretaries.
Her reward came when pilot schemes of a version of Sarah's Law were rolled out across the UK. And In the New Years Honours, almost exactly a year ago, she was awarded an MBE. At the end of January Sarah was appointed the Government's Victims Champion. Fiona said: "It's surreal to think of what she's achieved. She was just a barmaid, and now look where she is.
SO CLOSE - Sara, left, with her sister Fiona
"Gordon Brown has been in touch to say he is thinking of her, and Jack Straw has also passed on his best wishes, along with Jacqui Smith. We've had an unbelievable amount of support."
Justice Secretary Mr Straw said last night: "Sara is very much in everyone's thoughts at the moment.
"We are hoping and praying for her and her family at this difficult time. She is regarded with enormous affection by all who know her."