Kate McCann has admitted that listening to claims that she faked her daughter Madeleine's abduction was difficult - but said nothing could be as bad as losing her child.
Speaking as she arrived for a third day of hearings at the main civil court in Lisbon today over a book that claims Madeleine is dead, she acknowledged that this week had taken its toll.
'If I'm honest, our daughter's been taken and nothing's ever going to be as bad as that,' she said.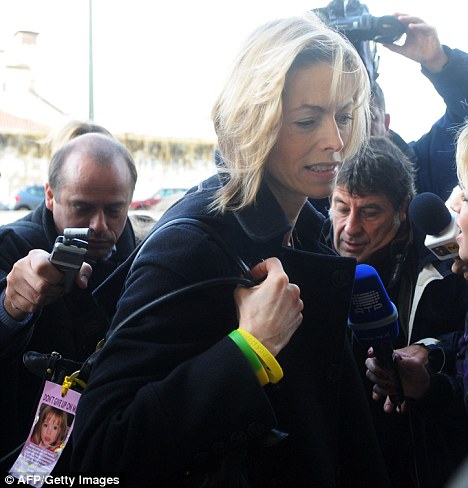 'Nothing's harder than losing Madeleine': With a tag featuring a picture of her missing daughter and the phrase 'Don't forget about me' attached to her purse, Kate McCann arrives at Tribunal Civil de Lisboa in Lisbon today
'It's still been difficult, it's been emotive, because I know what's in the case files, I know what the conclusions are.
'So it's difficult to hear something that's incorrect and inaccurate.
'At the bottom of all this is a little girl, and I think it's important that we don't forget that.'
She spoke after it was claimed yesterday that the 'fairytale' of Madeleine's abduction saved her parents from being charged with neglecting their children.
Kate and Gerry McCann did not face negligence charges because police were too 'distracted' by claims their daughter had been snatched, a former policeman said.
Francisco Moita Flores told the second day of the McCann libel case how police hadn't believed three-year-old Madeleine was abducted from her parents' holiday apartment in Praia da Luz.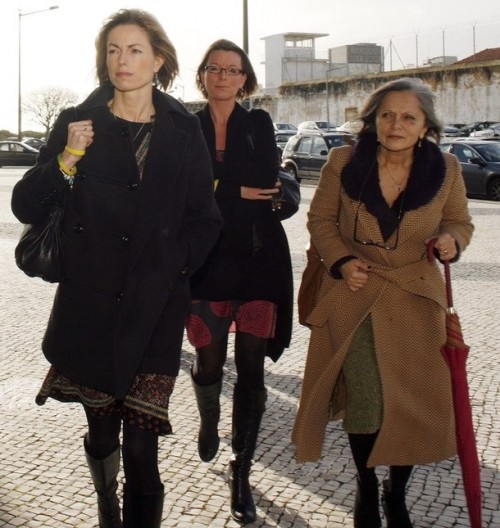 Determined to win: Kate McCann (L), her friend Fiona Payne and her lawyer Isabel Duarte (R) arrive at the court hearing today
They were forced to investigate the theory because of the 'media circus' surrounding the case and the political pressure it created, the Portuguese court heard.
He suggested the couple should face neglect charges because they left their children sleeping while they went out for dinner at a nearby restaurant.
Mr McCann flew back to Britain last night to return to work and his wife was accompanied to court today by Fiona Payne, one of the friends on holiday with the couple when Madeleine disappeared.
After yesterday's hearing a clearly angry Mr McCann conceded that he and his wife had been wrong to leave their children, but said mistakes had been made by all involved.
He said: 'We're not harking over mistakes which were made, and particularly mistakes that were made early on and cannot be redeemed.
'What is done cannot be righted... in hindsight we made a mistake by leaving Madeleine and we have to live with the consequences of that. We can't change it.'
Earlier, Mr Moita Flores had told the court: 'No one believed it was an abduction. It was a fairytale, a fable. If the police only worked on that theory then they would be a bunch of idiots.'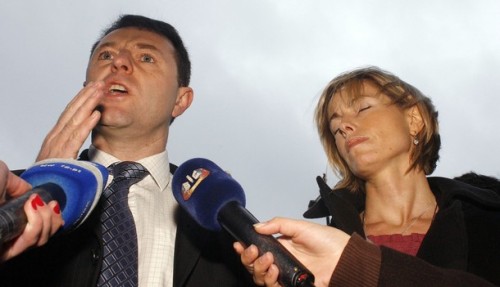 Ordeal: Gerry and Kate McCann talk to reporters as they arrive at court yesterday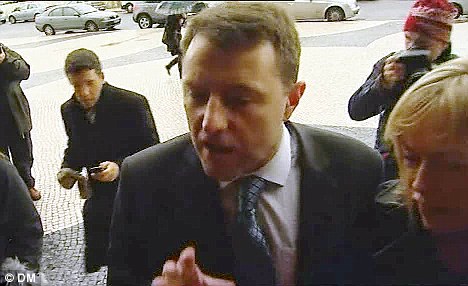 Pressure: The McCanns, seen yesterday, were negligent, Portuguese police say
He said he believed it would have been impossible for an abductor to break into the McCanns' apartment and carry away Madeleine.
'The McCanns should be judged for the neglect of their children. In Portugal this is huge negligence,' he said.
'The accusation was not made. Justice was distracted. How could they not be accused?'
Mr Moita Flores did not work on the investigation and had already left the Portuguese police when Madeleine disappeared in May 2007.
But he was giving evidence on behalf of Goncalo Amaral, the detective accused of libelling the McCanns in his bestselling book, Maddie: The Truth Of The Lie.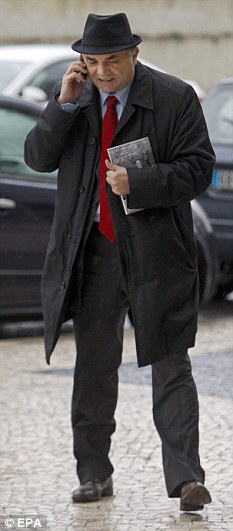 Accused of libel: Goncalo Amaral, former coordinator of the Portuguese Judicial Police, arrives at the court
Mr McCann, 41, left Portugal last night to return to his job as a hospital heart consultant.
His wife, also 41, a former GP who has not returned to work since Madeleine's disappearance, is expected to stay in Lisbon until the end of the court hearing.
The latest courtroom accusations came as Mr Amaral was forced to deny claims he had launched a foul-mouthed attack on the McCanns.
The 50-year-old was caught on camera as he was asked if his book had hurt the couple, and appeared to snarl: 'No, **** the McCanns.'
His outburst was shown by the BBC's regional news programme in the East Midlands, which bleeped out the offending word.
A source said producers were convinced he had sworn, but lawyers for the detective denied he had spoken in English.
His lawyer Antonio Cabrita said: 'I have never heard him use that kind of language.' Asked if he had made the comment, Mr Amaral, 50, replied: 'Never.'
The detective is believed to face financial ruin if the McCanns succeed in their £1million libel action.
The case will be adjourned until February 10, when it will hear from two witnesses who were not available this week before the lawyers sum up their arguments.
The judge, Maria Gabriela Cunha Rodrigues, is expected to send her ruling directly to the McCanns and Mr Amaral before the end of February.
There will then be a full trial on whether the injunction banning the book should be made permanent at a later date, Ms Duarte said.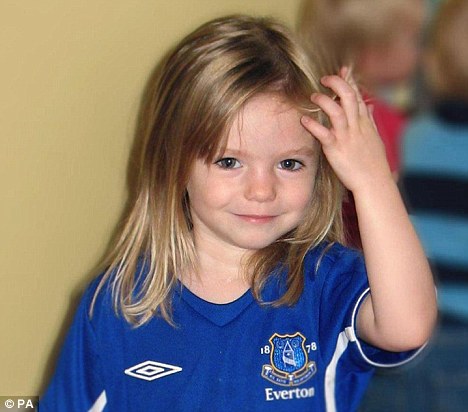 Missing: Madeleine McCann disappeared on May 3, 2007
Gerry McCann in courthouse clash

Gerry McCann yesterday lashed out at accusations that the couple had faked their daughter's abduction.
Sickened by police slurs that he and wife Kate were involved in Madeleine's disappearance, the grim-faced father confronted journalists on his way into court.
Asked why they had taken legal action over the claims, Mr McCann turned on a Portuguese television reporter and demanded to know if she was a mother. 'Do you have children?' he snapped. 'Anyone who has children would go through the same process.'
Mr McCann appeared to struggle to control his anger as he returned to hear a second day of allegations.
He said: 'There is absolutely no evidence that Madeleine is dead. Let me finish please.
'There's absolutely no evidence that Madeleine's dead, and there's absolutely no evidence that we are involved.'